Tammy and the Teenage T-Rex
(1994)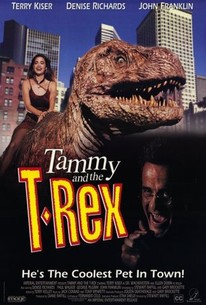 AUDIENCE SCORE
Critic Consensus: No consensus yet.
Tammy and the Teenage T-Rex Videos
Tammy and the Teenage T-Rex Photos
Movie Info
A bizarre entry even for an area of film that specializes in the offbeat, this is the story of an ideal teenage couple, a cheerleader and a jock, who are abruptly separated when a jealous rival slays the footballer. At the hospital, a crazed doctor transplants the young man's brain into that of a giant robotic dinosaur as part of his immortality-via-cobras experiment. Unfortunately, the newly transplanted boyfriend is most unhappy with his new form and with the way things have turned out in general, so he goes on a bloody rampage for revenge. When he finds the cheerleader, he is somehow able to convey his plight to her. She and a pal decide to help him by finding a new body in which to place his brain (his old one was beyond repair). While the low-budget Tammy and the T-Rex has been for some reason marketed as a family-oriented comedy, parents beware. There is a lot of blood, violence, crude sexual innuendo and a striptease scene.
Rating:
PG-13
Genre:
,
Directed By:
On DVD:
Runtime:
Studio:
Imperial Entertainment Corp
Critic Reviews for Tammy and the Teenage T-Rex
There are no critic reviews yet for Tammy and the Teenage T-Rex. Keep checking Rotten Tomatoes for updates!
Audience Reviews for Tammy and the Teenage T-Rex
A monstrously bizarre movie that I loved for some reason. First of all, it looks like some kind of kids film. I guessed Denise Richards would find a dinosaur egg, raise it, the government would want it etc. I couldn't have been more wrong. This was a mid-nineties Frankenstein, filled with adult themes handled in an immature way. Richards ex-boyfriend is an obsessive violent freak, that has no regard for the law. To the point where he leaves Walker in a safari park where he is savagely attacked by a lion. An evil scientist then kidnaps the body (after announcing Walker dead), and puts Walker's brain in a robotic dinosaur. He escapes, kills out of anger, before remembering his love for Richards. Yes, this is terrible, but due to some of its twists and turns, it's just compelling. Richards has a gay best friend that is the son of the sheriff. Some of the other police in town ridicule him behind his back with homophobic comments. When they go to find Walker body to put the brain back in, they find it decayed and rotted, with maggots everywhere. When they look for an alternative body at the morgue, Richards checks out the cadavers penis size to see if she would approve. The kills are often quite violent, before being played for comedy. A man is flattened, and is later rolled up like a poster. It climaxes with a bizarre "climax" (wink,wink) which you must see to truly appreciate. This is honestly like a person tricking his way into your affections so that he can corrupt your kids. It's too dark for them, but too childish for you. Kind of like Michael Jackson.
Luke Baldock
Super Reviewer
½
this movie was ok. paul walker plays as a a student who was murdered and his brain was put into a t-rex. thats where the name of the movie comes in.
Kayla B
½
I've got hundreds of films I haven't seen. Many of these are screeners that I accumulated from several years of working in video stores and on a newspaper, and they sit untouched in the back room of my apartment. I'm moving soon, and in order to properly purge things, I've resolved to watch some of these things so I can consider my relationship with them "closed" and get rid of them. Most of these films, I can imagine from the cover or cast, are utter shite. Imagine my surprise, however, when I pop in [i]Tammy and the T-Rex[/i], a self-described (by the box) "family film" from the director of [i]Mac and Me[/i], and discover that it is, in fact, actually... complete drivel? I suppose it's not that surprising, considering the film stars Denise Richards and Paul Walker before they got famous for staring into space with their cold, dead eyes in films like [i]Wild Things[/i] and [i]The Fast and the Furious.[/i] Richards plays the titular Tammy, a high school cheerleader whose relationship with Michael (Walker) is on the rocks because her abusive ex-boyfriend Billy (George Pilgrim) keeps getting in the way. One night it even gets so bad that Billy arranges for Michael to be attacked by a lion, leaving him in a coma. Yes, attacked by a lion. Wait. We haven't gotten to the silly part yet. Meanwhile, mad scientist Dr. Wachenstein (played by ex-[i]Weekend at Bernie's[/i] corpse Terry Kiser, clearly making up for lost screen time by overacting as much as he can) is working on an animatronic Tyrannosaurus which he plans on bringing to life for reasons of, oh, science of some sort. He and his assistant ("Lexx" babe Ellen Dubin) sneak into the hospital, convince everyone that Michael is dead, kidnap him, and plant his brain into the body of the giant lizard. Because Wachenstein clearly doesn't have this planned out at all, of course, the dino breaks out and goes on a rampage. Dinomichael attacks a high school party (which Tammy is strangely at, despite the fact that her boyfriend died that day) and squooshes a few of his classmates. Tammy, however, manages to identify that it is Michael trapped inside the mechanical beast, and it's up to her and her gay, black best friend Byron (Allen?) to save him from the cops that want to kill him and the mad doctor that wants to, um, science him. Byron is almost exactly like the Hollywood character from the [i]Mannequin[/i] films (no surprise, as Tammy director Stewart Rafill also made [i]Mannequin Two[/i]) except that his fashions are more Huey Newton than New Wave. [i]Tammy and the T-Rex[/i] seems to be marketed as a "film for all ages." Now, I'm certainly never one to encourage the censoring of films for kids, but less liberal-minded parents who picked this up probably got a shock when they sat down to watch a film with teens drinking and having loud sex in cars, a dinosaur that gruesomely squashes and slashes people to death as a hero, and a climax in which the brain is hooked up to a video camera that explodes when Denise Richards does an extended striptease. Ah well. Kids have to to learn what the body of Richards does to a severed brains sometime, and it's obvious the schools aren't gonna teach 'em. The fact that [i]Tammy and the T-Rex[/i] is dumb shouldn't surprise anyone, but that it's dumb without ever managing to be entertaining is kind of sad. Sure, it's fun to watch Kiser chew the scenery (and good to see John Franklin, [i]Children of the Corn's[/i] creepy Isaac as Kiser's assistant) for a while, but when the leads are Denise Richards and Paul Walker, one of whom is in the body of a shoddily-made dinosaur model, your on-screen chemistry is zero. (Though watching Richards trying to act romantic with a big dinosaur head is almost worth the cost of admission.) Fun to watch for the absurdness of the plot and the half-assed attempts at social commentary (Byron's sheriff father learns to accept his sexuality!) and some truly idiotic moments (watch the T-Rex make a phone call!), it doesn't really have enough jaw-dropping moments to be worth seeing by anyone but the most desperate of bad movie fans. Oh, and Denise Richards fans. But, y'know, you people are sick.
Paul Freitag
Tammy and the Teenage T-Rex Quotes
There are no approved quotes yet for this movie.
Discussion Forum
Discuss Tammy and the Teenage T-Rex on our Movie forum!