Taras Bulba
(1962)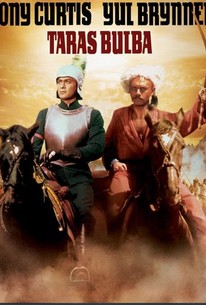 AUDIENCE SCORE
Critic Consensus: No consensus yet.
Movie Info
The spectacular hordes of Cossack horsemen flying across the steppes to do battle with first one enemy and then another are the highlights of this otherwise thinly scripted costume drama set in the 16th century in the Ukraine. After the Cossack leader Taras Bulba (Yul Brynner) makes a pact with the Poles to join forces against the Turks and drive them from the European steppes, victory brings betrayal as the Poles then turn on their ally and force the Cossacks into the hills. From there, Taras Bulba decides that one of his sons, Andrei (Tony Curtis), will be sent to Polish schools to better learn the nature of their enemy. While away from home and hearth, the adult Andrei falls in love with a Polish noblewoman, Natalia (Christine Kaufmann, who would become the second Mrs. Curtis). As time progresses, the tensions between father and son, loyalty and love, ethnic identity and assimilation steadily increase until they end in tragedy. Taras Bulba was nominated for a 1963 Academy Award for "Best Music", scored by Franz Waxman. ~ Eleanor Mannikka, Rovi
Critic Reviews for Taras Bulba
All Critics (1) | Fresh (0) | Rotten (1)
It seems to be in genre form when showing hordes of Cossack horsemen flying across the steppes to do battle.

Ozus' World Movie Reviews
Audience Reviews for Taras Bulba
½
When it first came out, this movie stirred all kinds of interest in the ethnic community I grew up in. Though widely seen as a mere "Hollywood" version of its classic source material, it thrilled this 11-year-old (at the time) no end. The sight of the charging horsemen, their swords spinning and flashing in the sunlight, to the strains of Franz Waxman's exciting score (which 'borrowed' liberally from Khatchaturian's "Sabre Dance") sticks with me to this day. Taras Bulba was the role Yul Brynner was born to play, even more so than the King in the King And I. Unfortunately, the same cannot be said of Tony Curtis, as his son, Andrei. Curtis was simply too old and too urban with his 'Noo Yawk' accent to be very believable, but he tried hard, and he really did fall in love with his female co-star, who he soon married. Christine Kaufman, who was a teenager at the time, was not much of an actress, but she had a lovely, delicate beauty about her. The supporting cast of Guy Rolfe, Sam Wanamaker, and a slew of familiar character actors of the times, conveyed absolutely no sense of historical or ethnic verisimilitude, but plenty of Hollywood style villainy and/or camaraderie, as required. It may not be a forgotten classic, but TARAS BULBA is an adventure epic worth seeing at least once. They don't make them like this anymore.
Will Free
Yul Brynner is awesome and chews up the scenery good as the lead character- a proud and die-hard Cossack who gets into it with his oldest son (a slightly out of place Tony Curtis) when he falls in love with a Polish woman- an enemy of the Cossack's. The direction is pretty sharp and never slow, and the music is just terrific- it's an epic without an excessive running time. The costumes are cool, and the battle scenes (for the time AND in general) arepretty cool and well done. The films is a little flawed, but still worth checking out.
Pete Skeris
A movie epic on all proportions, although the plot gets a little repetitive with the 'drink, party with women, do something badass, repeat' cycle, its impossible to not percieve the epicness of the whole experience
Cole Clark
Taras Bulba Quotes
There are no approved quotes yet for this movie.
Discussion Forum
Discuss Taras Bulba on our Movie forum!