Tarzan Finds a Son!
(1939)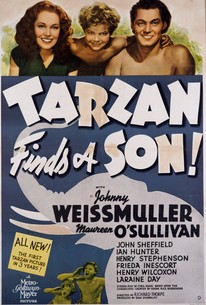 AUDIENCE SCORE
Critic Consensus: No consensus yet.
Movie Info
When a plane crashes in the jungle, Tarzan and Jane find the sole survivor; an infant. After raising Boy for five years, inheritance-seeking relatives come for him after they find out he is alive and living in the jungle. An ill-bearing tribe captures the trio of jungle-ites when they attempt to adopt the child, but handy--and vocally gifted--Tarzan calls in Elephants for aid in the form of a stampede. Maureen O'Sullivan requested to end her Jane stint in this film, but was denied and the end to Tarzan Finds a Son was reshot so her character could remain in subsequent Tarzan films.
Rating:
PG
Genre:
Directed By:
Written By:
In Theaters:
Runtime:
Studio:
MGM
Cast
Critic Reviews for Tarzan Finds a Son!
All Critics (1) | Fresh (1) | Rotten (0)

Ozus' World Movie Reviews
Audience Reviews for Tarzan Finds a Son!
½
This is the Tarzan movie where they switched from adult entertainment to kiddy entertainment. I remember watching it on Saturday afternoon TV when I was a kid. They wanted to add a kid character for the kids, but they couldn't let the little kids know where babies really come from. Instead of having Tarzan and Jane have a baby the normal way they had a plane crash in the middle of Tarzan's jungle with a baby inside. The mother, father and pilot are killed. Cheeta finds the baby and brings it to Tarzan. This kind of follows the pattern of the original Tarzan book where Tarzan's parents are marooned on the coast of Africa and are killed by the apes and the baby Tarzan is raised by a female ape. Tarzan brings the baby to Jane and he calls him Boy. When the boy is six, the relatives of the lost parents come looking for them. Jane lies and tells them Boy is her son. With all the child custody fights going on in the world today I doubt this would be a politically correct story line today. Back in the 1930's peoples attitudes were different. Unwed mothers were routinely forced to put their babies up for adoption. Orphans whose parents had died were common and were passed from one family to another depending on who could afford to raise an orphan. When Jane finds out Boy's real parents were millionaires she changes her mind and tells the truth. Tarzan refuses to give up boy so Jane tricks Tarzan into going into a pit and then cuts his vine so he's trapped. She leaves with Boy's relatives only to find out they have murdered Boy's Great-Uncle and are really only after the money. They are then captured by the Natives who start killing the porters one by one. Jane helps Boy escape to go find Tarzan. After Tarzan is freed he calls the elephants that stampede the Native village. In the stampede everyone is killed and Tarzan, Jane and Boy live happily ever after. They almost kill Jane off at the end of the movie but the test audeances didn't like it so they changed the ending where Jane lives.
Donald White
Exciting adventure. A remarkable film. Fresh.
Lucas Martins
Super Reviewer
I've watched 4 of these Weissmuller Tarzan flicks, and so far, so good. This time, I was surprised at the dramatic twist in act three -- Jane betrays Tarzan. Nice underwater photography in this one, too. Plus, whenever you got monkeys riding elephants into battle, it can only be a good thing.
Scott Schirmer
Discussion Forum
Discuss Tarzan Finds a Son! on our Movie forum!
News & Features