Tarzan's Revenge
(1938)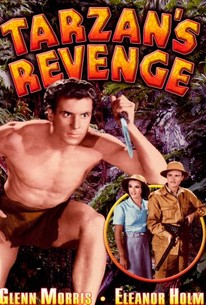 AUDIENCE SCORE
Critic Consensus: No consensus yet.
Movie Info
A nasty African ruler snatches Eleanor (Eleanor Holm) and takes her to his jungle hideaway, forcing Tarzan (this time played by Olympic decathlon champ, Glenn Morris) to respond in usual style.
Rating:
NR
Genre:
,
Directed By:
Written By:
In Theaters:
On DVD:
Runtime:
Studio:
20th Century Fox Film Corporation
Cast
Critic Reviews for Tarzan's Revenge
Audience Reviews for Tarzan's Revenge
A different Lord Of The Jungle (a different studio), essentially cashing in on the trend of the time. While the yell (not the same) could curdle milk, all the action is the same: a jungle safari by pampered Westerners, easily spooked native types, an evil jungle overlord (this guy's an Arab sheik!), untrustworthy guides, a kidnapped woman, and our hero swinging to the rescue. And this Tarzan, beyond being a active Greenpeace member, can bend steel, not to be fooled with. In one chase scene he runs from the tribe of murdering savages carrying the woman under his arm as easily as one might carry a baby. Lots of second unit African animal shots, (from the plains, from the swamps, from the jungle, it doesn't matter) seen in lots of other jungle flicks, on display again here. Still, all in all, not the worst of the genre.
Kevin M. Williams
Super Reviewer
Elanor Reed (Holm) is on a safari with her parents (Barbier and Hopper) and her fiance Nevin Potter (Meeker) are on an African safari to capture animals for a zoo, except the shiftless,gun-happy Nevin is more interested in shooting everything he sees. When a villainous Arab sultan (Gordon) who rules a feifdom deep within the jungle decides he wants to add Elanor to his large harem by any means necessary, it's up to Tarzan to rescue her. "Tarzan's Revenge" has been labeled by some critics as the worst Tarazn movie ever, As usual, critics who engage in such hyperbole are wrong and the truth of the matter is that it's not a bad little movie. Yes, it tries too hard to copy the vastly superior MGM series of Tarzan movies starring Johnny Weismuller and Maureen O'Hara (even the point where it gives Tarzan a chimp sidekick, copies the scene where Tarzan and Jane first meet, and also tries to copy the famous underwater shots of Jane and Tarzan swimming--with Elanor standing in for Jane. The film fails miserably at copying these scenes and instead just manages to call attention to the fact that it is NOT as good as the MGM-produced Tarzan films. What is also not as good as the MGM films is the actor playing Tarzan. Glenn Morris certainly has the physique to play Tarzan, but he was an athelete and not an actor... and, boy, does that show! He hs virtually no screen presence whatsoever, only generating a little bit of excitement in the scene where he rescues Elanor from the fortress of the evil Sultan Ben Alleu Bey (played with plenty of smarminess by C. Henry Gordon. Otherwise, everyone else outshines Morris in every scene he's in, even Elanor Holm who was just as inexperienced (also an athelete, hired mostly for her good looks and physical ability) but who shows far greater talent than Morris... which is probably why Holm is the defacto star of the movie with Tarzan getting less screen time in this flick than perhaps any other Tarzan film I've seen. [center][img]http://www.geocities.com/nuelow/movtarzanrevenge.jpg[/img] [i]Tarzan (Glenn Morris) rescues the beautiful Elanor (Elanor Holm) from the clutches of an evil Arab Sheik in a scene from "Tarzan's Revenge"[/i] [/center] There is one exceptional element to the film, and it's one I wish more Tarzan movies would do more with. (Joe Kubert would occassionally explore this side of Tarzan's personality in his run on the Tarzan comic book in the 1970s, but I've rarely seen it portrayed as clearly and charmingly as it is in this film. In "Tarzan's Revenge", Tarzan's actually a pretty peaceful man, a man who is concerned first and foremost with the happiness, safety and well-being of the animals in his jungle, and he only gets into fights when he absolutely has to. The gentle-demeanored Tarzan is a pretty cool take on the character, and it's one that makes this relatively dismal movie interesting to watch. In fact, the biggest dissapointment in the film is that Tarzan is so gentle that he doesn't even give Nevin Potter the thrashing is so richly deserves. If there ever was a character in a movie who deserved to be tossed off a cliff by the Ape Man (or otherwise meet some horrible fate), it's this guy. Cowardly, stupid, and so bloodthirsty he guns down any animal he spots without even making an effort to collect a trophy, my disgust with him grew as the film unfolded. I really hoped a native would spear him, or a hungry crocodile would kill him. But, alas, not even Tarzan would finish him for me. (At least Elanor develops enough sense to not marry him.) By the way, this film is completely revenge free, despite the title. As mentioned above, Tarzan doesn't even give Nevin Potter the asskicking he so richly deserves, and he even gives Tarzan plenty of reason to want revenge. Tarzan's Revenge Starring: Elanor Holm, Glenn Morris, George Meeker, George Barbier, Hedda Hopper, Corbit Morris, and C. Henry Gordon Director: D. Ross Lederman
Steve Miller
VERY LOW BUDGET TARZAN FILM, NOT ONE OF THE BETTER ENTRIES IN THE SERIES. TOO LITTLE TARZAN, TOO MUCH PHONY DRAMATICS. STICK WITH THE JOHNNY WEISSMULLER TARZAN FILMS.
James Higgins
Discussion Forum
Discuss Tarzan's Revenge on our Movie forum!
News & Features