Tarzan's Secret Treasure
(1941)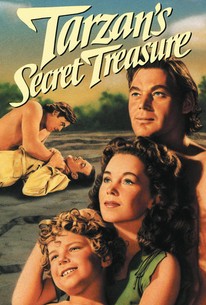 AUDIENCE SCORE
Critic Consensus: No consensus yet.
Movie Info
Judging by the number of times it's popped up on TV, Tarzan's Secret Treasure was one of the most popular of the MGM "Tarzan" pictures, though it's hardly the best. This time around, a group of gold hunters invade the domain of Tarzan (Johnny Weissmuller), Jane (Maureen O'Sullivan) and Boy (Johnny Sheffield). Expedition leader Professor Elliot (Reginald Owen) is an honorable man, but his assistants Medford (Tom Conway) and Vandemeer (Philip Dorn) are scoundrels, while the party's aggressively Irish general factotum O'Doul (Barry Fitzgerald) remains an enigma until the final reel. Thinking they've done away with Tarzan, Medford and Vandemeer force Jane and Boy to lead them through the jungle to a hidden gold mine, only to be captured by a hostile tribe which specializes in literally tearing its captives apart (via tastefully gruesome stock footage from 1936's Tarzan Escapes). Will ol' Tarz revive in time to rescue his loved ones from fierce tribesmen and even fiercer crocodiles? Perhaps the "campiest" of MGM's "Tarzan" entries, Tarzan's Secret Treasure is chock full of laughable vignettes, one or two of them intentional. Best line: When Jane asks Boy what he's been doing all day, the plucky youngster, who's just survived a series of hair-raising perils culminating with his nearly being burned at the stake by superstitious natives, replies "Oh, nothing much."
Audience Reviews for Tarzan's Secret Treasure
In this movie Boy is a little older but the story is still the same. White hunters kidnap Jane and Boy, Natives capture White Hunters with Boy and Jane, Tarzan comes to the rescue and everyone dies. In this movie Boy finds gold at the bottom of the river. I'm surprised the writers of this movie weren't haulded in front of the House Un-American Activities Committee after the war. When an expedition of white explorers show up Tarzan is revealed to be anti-white men, anti-gun, anti-hunting and anti-money. The white explorers find Tarzan's home when Jane tells Boy that people in civilization use gold to buy things. Boy decides to go to civilization and buy an airplane. Boy finds a native village where people are dying of fever. The explorers arrive at the village and are about to be killed by the natives when Tarzan arrives and chases the natives all away. They tell Tarzan they are looking for a lost civilization so he takes them to his escarpment. When Boy gets the fever they tell Tarzan they have the medicine to cure Boy but he has to show them were the gold is. After he shows them the gold they try to shoot Tarzan but he falls out of sight in to a canyon. The evil white capitalist who want to start a gold mine take Jane and Boy through the jungle to get to civilization. When they are attacked by the natives the short Irishman who had befriended Tarzan pretends to be killed and after the natives take everyone away he goes back with Cheeta and rescues Tarzan. Tarzan finds the natives with their prisoners in canoes in the river. He swims under them and tips them into the water where everyone except Jane and Boy are eaten by crocodiles. Tarzan gives his Irish friend a gourd full of gold and puts him on an elephant to take him back to civilization.
Donald White
While all these Tarzan serials are partial clones of one another, this one in particular offers absolutely nothing new. And Johnny seems disinterested in the whole affair.
Scott Schirmer
½
6.5/10. Good but one of the lesser entries in the Johnny Weismuller Tarzan series. Very entertaining though, a little more formulatic than the others. Good production and cast.
James Higgins
Tarzan's Secret Treasure Quotes
There are no approved quotes yet for this movie.
Discussion Forum
Discuss Tarzan's Secret Treasure on our Movie forum!