Tattoo Nation
(2013)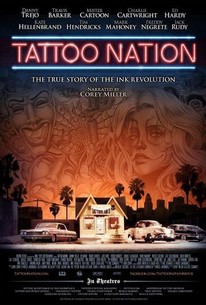 AUDIENCE SCORE
Critic Consensus: No consensus yet.
Movie Info
For years people saw tattoos as a sign of rebellion. A middle finger salute to the rest of the world. Outlaw bikers got tattoos. Sailors on leave in Singapore got tattoos. Lifers in the joint got tattoos. But now in the United States one out of every three adults under forty has a tattoo! So what happened? How did tattoo go from something that was put on you to an expression that comes from within you? Tattoo Nation tells the story of a few people who helped transform the world of tattoo, and the way we think about tattoos, forever. This is the true story of the ink revolution.
Rating:
NR
Genre:
, ,
Directed By:
Written By:
In Theaters:
Runtime:
Studio:
Critic Reviews for Tattoo Nation
All Critics (2) | Top Critics (2) | Fresh (2) | Rotten (0)
A vivid portrait that should satisfy aficionados and intrigue the curious. Ink-averse viewers, however, may remain unsold.
Los Angeles Times
Top Critic
The images of the style as it evolves, and especially those that fill the last 15 minutes of Tattoo, are so beautiful and often majestic that they overshadow the film's small shortcomings.
Audience Reviews for Tattoo Nation
Brilliant film on the tattoo boom in America, Tattoo Nation chronicles the rise in popularity of the tattoo art form. Before tattoos were accepted became socially acceptable in popular culture, they were seen as marks of criminals and low lives. Back in the 60's, Tattooing was illegal in most states, and was done in secret, and artists would not divulge their techniques. Most of the techniques were learned in prison between Chicano inmates. Other artists learned other methods and brought something new to the medium. This is an excellent, and in depth documentary about the tattoo revolution that is a must watch for fans of tats. Some of the finest artists in the business, including Ed Hardy, Freddy Negrette, Cory Miller, Tim Hendricks and Charlie Cartwright. This is a highly engaging picture that should be seen because tattooing is actually a beautiful art form, and when done correctly, can be a beautiful masterpiece, just because it's on your body doesn't make it look sketchy or you look trashy. This documentary also tells as to why certain tattoo pieces are chosen by its wearers, and it's always interesting to hear the stories behind the art. Tattoo Nation gives the art form long due credibility as it shouldn't be something to be frowned upon. I strongly believe that Tattoo artists deserve more credit for what they're doing, and what we have in this documentary is the development of the art, and how tattoos have some form of individuality. I love tattoos, I have two of them myself and this documentary just makes me respect the level of talent that the artists have put into their work. Every part of the tattoo revolution is covered and I think that it is a fine film that tells an important story.
If you are a fan of tattoos, you will love this documentary! It focuses on the history and tattoos and features some pretty big names like Danny Trejo and Ed Hardy. The ink featured throughout is BEAUTIFUL and I loved learning about the black and white days. After watching it I automatically wanted to go out and get some new ink. I definitely recommend this for ink lovers!
Andy Rodriguez
I was blown away by the talent that I saw in this movie. Not only did I learn a lot about the history of black&grey style tattooing but I got witness amazing body art that the average person wouldn't get to see. I know there are a lot of tattoo shows on television but this documentary takes it to another level and puts a spotlight on some of the best tattoo artists in the world. I would love to have Freddy Negrete or Mister Cartoon tattoo on me. To wear their art for the rest of my life would be an honor!
Melissa West
Tattoo Nation Quotes
There are no approved quotes yet for this movie.