Taxi Driver
(1976)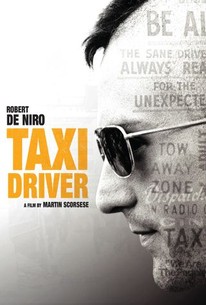 TOMATOMETER
AUDIENCE SCORE
Critic Consensus: A must-see film for movie lovers, this Martin Scorsese masterpiece is as hard-hitting as it is compelling, with Robert De Niro at his best.
Movie Info
"All the animals come out at night" -- and one of them is a cabby about to snap. In Martin Scorsese's classic 1970s drama, insomniac ex-Marine Travis Bickle (Robert De Niro) works the nightshift, driving his cab throughout decaying mid-'70s New York City, wishing for a "real rain" to wash the "scum" off the neon-lit streets. Chronically alone, Travis cannot connect with anyone, not even with such other cabbies as blowhard Wizard (Peter Boyle). He becomes infatuated with vapid blonde presidential campaign worker Betsy (Cybill Shepherd), who agrees to a date and then spurns Travis when he cluelessly takes her to a porno movie. After an encounter with a malevolent fare (played by Scorsese), the increasingly paranoid Travis begins to condition (and arm) himself for his imagined destiny, a mission that mutates from assassinating Betsy's candidate, Charles Palatine (Leonard Harris), to violently "saving" teen hooker Iris (Jodie Foster) from her pimp, Sport (Harvey Keitel). Travis' bloodbath turns him into a media hero; but has it truly calmed his mind? Written by Paul Schrader, Taxi Driver is an homage to and reworking of cinematic influences, a study of individual psychosis, and an acute diagnosis of the latently violent, media-fixated Vietnam era. Scorsese and Schrader structure Travis' mission to save Iris as a film noir version of John Ford's late Western The Searchers (1956), aligning Travis with a mythology of American heroism while exposing that myth's obsessively violent underpinnings. Yet Travis' military record and assassination attempt, as well as Palatine's political platitudes, also ground Taxi Driver in its historical moment of American in the 1970s. Employing such techniques as Godardian jump cuts and ellipses, expressive camera moves and angles, and garish colors, all punctuated by Bernard Herrmann's eerie final score (finished the day he died), Scorsese presents a Manhattan skewed through Travis' point-of-view, where De Niro's now-famous "You talkin' to me" improv becomes one more sign of Travis' madness. Shot during a New York summer heat wave and garbage strike, Taxi Driver got into trouble with the MPAA for its violence. Scorsese desaturated the color in the final shoot-out and got an R, and Taxi Driver surprised its unenthusiastic studio by becoming a box-office hit. Released in the Bicentennial year, after Vietnam, Watergate, and attention-getting attempts on President Ford's life, Taxi Driver's intense portrait of a man and a society unhinged spoke resonantly to the mid-'70s audience -- too resonantly in the case of attempted Reagan assassin and Foster fan John W. Hinckley. Taxi Driver went on to win the Palme d'Or at the Cannes Film Festival, but it lost the Best Picture Oscar to the more comforting Rocky. Anchored by De Niro's disturbing embodiment of "God's lonely man," Taxi Driver remains a striking milestone of both Scorsese's career and 1970s Hollywood. ~ Lucia Bozzola, Rovi
News & Interviews for Taxi Driver
Critic Reviews for Taxi Driver
Audience Reviews for Taxi Driver
Daniel J DeMersseman
Super Reviewer
½
A monumental performance and vision that is aesthetic, symbolic and emphatic. Taxi Driver highlights Martin Scorsese's illustrious direction and De Niro's masterful performance that both create a neo-noir presentation of the 1970s that's revered as both respective talents' best. 4.5/5
Eugene Bernabe
Super Reviewer
Now regarded as a cinematic classic, I have to admit that Martin Scorsese's "Taxi Driver" was always a film that left me as isolated as it's lead character. The first time I saw it, I thought it vastly overrated. Admittedly, I was in my teens at this point and never managed to fully grasp it's themes. With each viewing it, admittedly, grew in stature but I could never really get over my initial judgement. It's not often that I'll backtrack on my opinion but I have now come full circle and can appreciate just how good a film it is and why it's regarded as one of the true greats of American cinema. Travis Bickle (Robert DeNiro) is a lonely, mentally unstable taxi driver who scours New York City every night where he becomes increasingly disgusted with the seedy cesspool around him. He attempts to strike up a connection with local presidential campaign worker, Betsy (Cybill Shepherd) but when that falls flat, he takes it upon himself to change things and fails again in an assassination attempt on the Senator himself (Leonard Harris). Determined to make a difference, he turns his mind to rescuing Iris (Jodie Foster), a preadolescent prostitute from the clutches of her pimp and lover, Sport (Harvey Keitel). Opening with Bernard Herrmann's distinctive and sleazy score, we are thrust into the nightlife of New York City where there's a blaze of neon light reflected on the streets and rainswept windscreens. The grim debauchery of the city's nightlife is captured to perfection by Michael Chapman's striking cinematography. As much as Herrmann and Chapman play a major part in the proceedings, though, so too does the unsettling delivery of DeNiro in a bravura show of restraint and suggestion. The film wastes no time in introducing us to his iconic Travis Bickle: a 26 year old, Vietnam veteran and insomniac who struggles to socially connect. This truly is one of DeNiro's finest moments onscreen. He would receive, a well deserved, Oscar nomination and to actually win the award would not have been out of place either. It's a captivating performance and it's hard to avert your eyes from his intensity. Speaking of eyes, it's easy to lose count of the amount of times that DeNiro acts with them alone. At times, he doesn't even need to speak as his eyes, either directly or indirectly, speak volumes. We often get a glimpse of them as he observes the city's inhabitants through his rear view mirror and there's a lot going on. Behind them, a simmering menace and desperation are so expressively captured and Scorsese is wise to focus on them. Essentially Travis' eyes are our own in this debauched and immoral world of degenerates. Even DeNiro's (now infamous) "You talkin' to me?" ad-lib stems from him observing himself in the mirror and playing out his deranged fantasies. Whether intentional or not, Scorsese's use of mirrors play quite a significant part in reflecting Travis' alienation and paranoid psychosis. As for the Big Apple itself, Scorsese has regularly been known for his ability to capture it in the minutest detail but "Taxi Driver" has to be the most descriptive he's ever been. Through Travis' perspective, he depicts it as a nightmarish, hell on earth; the steam rising from the street vents and crime and prostitution at every corner. This is a city that's depicted with dark and repugnant depths as the dirt and grime oozes from it's pores. Our troubled protagonist struggles to come to term with it as we observe his increasing frustration and distance. We feel his alienation and through his diary entries we are allowed to hear his innermost thoughts. It's unnerving to see Travis' decent and the dangerous fragility of his mental health. When he finally attests to having "... some bad ideas in my head", we realise that the depravity of this environment is dangerously permeating this man's psyche. At one point Travis is compared the lyrics of Kris Kristofferson's song He's a Pilgrim: "... a walking contradiction, partly truth and partly fiction. Taking every wrong direction on his lonley way back home" which is cleverly dropped in at an early point in the film but only makes complete sense when his odyssey is over. It's moments like this that only serve as a reminder of the layers in Paul Schrader's script. This isn't simply about one man's struggle with society but an astute, psychological character study that ambiguously treads a fine line between redemption and damnation while leaving us to question our interpretation of events. The denouement is particularly interesting and although Schrader himself has stated that the closing "could be spliced to the first frame, and the movie started all over again" suggesting that what we've witnessed falls more into the damnation element of Travis, there also exists a sequence that could arguably be claimed as redemptive which would leave Travis Bickle as on of cinema's most intriguing (and contradictory) anti-hero's. Almost 40 years on and now firmly part of American film culture, this still has as much staying power as it had upon its release. It's just a shame that it's taken me all of 20 years to fully appreciate it. A reappraisal of this film was always a major requirement of mine but by going into it with a more open mind, I can honestly say that I feel I have experienced "Taxi Driver" as if it was my first time and that experience was, simply, magnificent. Mark Walker
Mark Walker
Super Reviewer
Taxi Driver Quotes
| | |
| --- | --- |
| Sport: | Ahhhhhh! I'm gut shot! |
| | |
| --- | --- |
| Iris: | Didn't you ever hear of women's lib? |
| | |
| --- | --- |
| Travis Bickle: | Don't be a whore, you're only 12 years old, Go home! |
| | |
| --- | --- |
| Travis Bickle: | I don't know. That's about the dumbest thing I ever heard. |
Discussion Forum
Discuss Taxi Driver on our Movie forum!