Taxi zum Klo (Taxi to the Toilet)
(1981)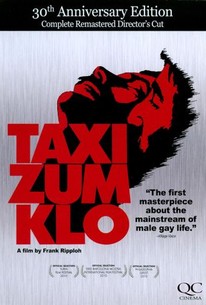 Taxi zum Klo (Taxi to the Toilet) Videos
Taxi zum Klo (Taxi to the Toilet) Photos
Movie Info
This very frank German film is a study of the life of gay elementary school teacher Frank Ripploh. The teacher's multitude of sexual adventures are thoroughly and explicitly detailed. Those willing to tough it out will be in for a remarkable experience, laced with wit, humor, and poignancy.
Critic Reviews for Taxi zum Klo (Taxi to the Toilet)
Audience Reviews for Taxi zum Klo (Taxi to the Toilet)
½
A ground breaking film to challenge the taboo of the German culture. Made with a shoestring budget, Taxi Zum Klo is a marvelous film looking at the struggles Ripploh himself faces as a public school teacher in the day, but an active hustler at night. The explicit content was sure to shock many, I thought the use of jumpcuts with vintage pornography was quite a clever twist in terms of editing. Taxi Zum Klo was also hilarious to watch with its use of awkward comedy. Perhaps not for everyone but certainly an interesting piece of art house gem.
Sylvester Kuo
Super Reviewer
Pioneering work of queer cinema, written and directed by Frank Ripploh, who also plays the lead role, a slightly fictionalized version of himself. By day he's a beloved schoolteacher, devoted to his students; by night (and sometimes on lunchbreaks) he trolls the local leather bars, bath houses, and public bathrooms of downtown Berlin (the film makes excellent use of seedy locations), living the life of a sexual thrill-seeker. He eventually finds a man whom he thinks could be the love of his life, but it's hard for him to let go of his habitual promiscuity, even though it endangers his new relationship and eventually starts to affect other aspects of his life, including his job. A simple, character-driven drama made with little money and lots of ingenuity. While it is flawed, it's fascinating, and Ripploh (who died of cancer in 2002) is to be commended for portraying himself so frankly on film at a time when homosexuality was still considered unnatural and even criminal. The sex, when it appears, is quite graphic (some would say, not entirely unreasonably, pornographic), but this is not a 'sex film'; rather, it is a funny, honest, and strangely engaging study of one man's struggle to find a happy medium between the freedom he cherishes and the love he has finally found in another man. Interesting but challenging cinema here, folks!
Steve Joseph
½
Gay life not set in, but taking place in cold war era Berlin.I've never seen anything like it before or since.
Martin Johns
Taxi zum Klo (Taxi to the Toilet) Quotes
There are no approved quotes yet for this movie.
Discussion Forum
Discuss Taxi zum Klo (Taxi to the Toilet) on our Movie forum!