TED: The Future We Will Create
(2007)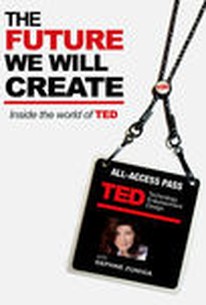 AUDIENCE SCORE
Critic Consensus: No consensus yet.
Movie Info
Hailed "the hottest gathering in the world" by &NFi;Wired&NFi_; magazine, TED (Technology Entertainment Design) is an annual event where an eclectic group of brilliant minds exchange bold ideas for the future. Actress Daphne Zuniga is your host on this all-access tour of the conference. Guests include former Vice President Al Gore, musician Peter Gabriel, environmentalist Majora Carter, as well as comedians, authors and innovators from around the world.
Critic Reviews for TED: The Future We Will Create
There are no critic reviews yet for TED: The Future We Will Create. Keep checking Rotten Tomatoes for updates!
Audience Reviews for TED: The Future We Will Create
TED (Technology Entertainment Design) is the most intriguing conference for serious thinkers that I know of. TED only invites brilliant speakers with world-altering ideas, and the audience is just as exclusive. While TED itself is a fantastic organization, this movie plays like an infomercial for TED. If you're really interested in the conference, just visit ted.com for full speeches/performances/demonstrations/etc. This movie is a sampler of the 2006 conference, and its most valuable potential was that it could have highlighted what happens on the convention floor between talks (especially since TED posts all their speakers' full length presentations online now); among a small handful of these scenes, the most memorable sequence that does this involves Al Gore and an impromptu add-on Q&A that happened the morning after his first talk on global warming, which starts in motion his decision to offer Majora Carter the position on the board of directors for his environmental non-profit. TED, by its very nature, can make even the most cynical depressed bastard like myself hopeful for humanitarian concerns in a capitalist world. The movie is a great springboard for discovering the world's top minds, and my personal favorite innovation of this conference was from Jeff Han (and you can see why at http://www.ted.com/index.php/talks/jeff_han_demos_his_breakthrough_touchscreen.html). If you aren't familiar with TED, this movie is a good way to introduce you to the overall flair and attitude of the project, but if you want real intellectual satisfaction, you will have to visit the website to see full presentations or do some additional research on your own to see how TED Prize winners' wishes come to fruition. Though I knew about TED and have seen many clips before, I was unaware of the "wish" that each prize winner gets to make, in front of an exclusively powerful, moneyed (but not strictly greedy) audience, perhaps the most public gathering of so many influential people. When someone speaks to a TED conference room, they are not setting up arguing points for later back-and-forth papers with their colleagues, they're not out for shameless attention, they're not courting just one potential investor; TED speakers get to pitch their idea to a room full of people who could easily and effortlessly realize these globally innovative ideas. Not only is the capital in the room astounding, but so are the pluckable humanistic strings of people a cynic such as I see as heartless machines programmed exclusively for financial gain and customer/end result/consumer fuckoffery. I learned that Bono's one.org happened as a result of the 2005 TED conference. I teared up a bunch of times; I always do when I see someone really ACHIEVING to the point that the reconstruct the word completely, and to see this achievement really gain immediately applicable strength from very rich or very intelligent, but very human, supporters. Basically, I wanted to see more interaction like what happens between Jeff Han and Hans Rossling in the hallway discussing how Han's design invention could work in Rossling's classroom. This is a genuine feel-good clump of media that I hope will inspire you to think more and to explore the content TED makes available to the public. I will say again though that as a documentary, this does not reveal enough of the conference's inner workings and unplanned meetings of giant minds, but instead opts for the easy tactic of an "Entertainment Tonight" cluster of clips and voiceover with a bubbly attractive hostess to boot.
_kelly .King
Super Reviewer
TED: The Future We Will Create Quotes
There are no approved quotes yet for this movie.
Discussion Forum
Discuss TED: The Future We Will Create on our Movie forum!