Teenage Mutant Ninja Turtles III
(1993)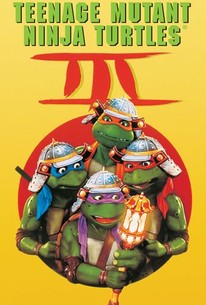 TOMATOMETER
AUDIENCE SCORE
Critic Consensus: It's a case of one sequel too many for the heroes in a half shell, with a tired time-travel plot gimmick failing to save the franchise from rapidly diminishing returns.
Teenage Mutant Ninja Turtles III Photos
Movie Info
This third film in the Teenage Mutant Ninja Turtles series finds the half-shelled ninjas traveling back in time to 17th-century Japan in order to save April O'Neil (Paige Turco). Once there, they also use their skills to help a rebel army battle an evil leader. ~ Judd Blaise, Rovi
People Who Like this movie also like
News & Interviews for Teenage Mutant Ninja Turtles III
Critic Reviews for Teenage Mutant Ninja Turtles III
Audience Reviews for Teenage Mutant Ninja Turtles III
Here's where they completely flew off the wagon with this. Not only is the plot completely a gimmick and not worth the charm of the characters, but it lost the fun and replaced it with bad one liners and too much goofiness. A lack of ideas is evident from the get go. It's just not fun at all and does not explore what made the TMNT characters so popular. They also changed the puppets and they were not as good as the originals from the first two. Not sure what happened there. This one is not worth the time, but if you already found the others not fun than this is not tolerable.
Josh Lewis
Super Reviewer
The third film of this trilogy plummets to an all new low. With worse humour and no explanation for returning characters, the set-up for the film is terrible before the story even kicks in. After April O'Neil is accidentally transported back to 1603, the Turtles must travel through time in order to fight Ninja Warrior's and Samurai to save her. The plot is hilarious in itself already, but when you add it to an Ninja Turtles film, it shits on the source material in every way and makes the first two films look worse for no reason. There was no true reason that this film had to be made. Besides the costumes of the turtles and few nice fight moves, the film falls flat on it's face in script, acting, and jokes. "Teenage Mutant Ninja Turtles 3" is a pile of crap that deserves to stay down in the sewers.
Stuard Gillard takes the turtles to ancient Japan in Teenage Mutant Ninja Turtles III.
Seemingly one of the most ideal situations for the turtles to showcase their martial arts skills, ends up a 90 minute less than stellar production. The time travel concept is a nice twist, but is never fully delved into. The rest of the story is mildly amusing.
The martial arts choreography lacks, although Donatello seems to end up with a lot of the good stuff. As for the animatronics, it is a step back. The costumes are too generic and the mouth movements disappoint when it comes to word matching.
The voices of the turtles are acceptable. Paige Turco tends to get lost in the shuffle. Elias Koteas proves himself as 2 characters, even though the one that matters is highly under utilized. Vivian Wu is a beauty on screen.
Teenage Mutant Ninja Turtles III has a bunch of letdowns, but manages to still be a watchable flick. Cowabunga dudes!
Teenage Mutant Ninja Turtles III Quotes
| | |
| --- | --- |
| Michaelangelo: | My neck hurts, my spots hurt, even my bandana hurts. |
| | |
| --- | --- |
| Donatello: | Help, I'm a Turtle and I can't get up. |
| | |
| --- | --- |
| Donatello: | You were expecting maybe, uh, The Addams Family? |
| | |
| --- | --- |
| Michaelangelo: | I'm spelunking for pork rines. |
Discussion Forum
Discuss Teenage Mutant Ninja Turtles III on our Movie forum!