Gen-Y Cops
(2000)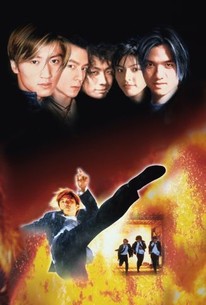 AUDIENCE SCORE
Critic Consensus: No consensus yet.
Movie Info
Making its American debut as part of the cable TV anthology Jackie Chan Presents, Metal Mayhem was originally released theatrically in Asia and Europe as Tejing xinrenlei 2 -- a title which roughly translates to Gen-X Cops II, proof enough that the film was intended as a sequel to the futuristic money-spinner Gen-X Cops. Paul Rudd is seen as "loose cannon" FBI agent Ian Curtis, one of several high-tech peacekeepers assigned to protect a group of American scientists at a Hong Kong-based international exposition. The fun begins when state of the art attack robot RS-1 (Skip Wilder) is unveiled at the exposition -- only to be promptly stolen by disgruntled ex-designer, Kurt (Richard Sun). With the help of this new super-weapon and a virtual army of hypnotized Hong Kong cops, Kurt intends to either take over the world or destroy it in the attempt. Aiding and abetting Curtis in his efforts to retrieve the robot is his slinky girlfriend, Jane Quigley (Maggie Q). Originally released at 110 minutes, Metal Mayhem was televised in the U.S. in a two-hour slot (plus commercials) over the Sci-Fi Channel on February 23, 2002.
Critic Reviews for Gen-Y Cops
There are no critic reviews yet for Gen-Y Cops. Keep checking Rotten Tomatoes for updates!
Audience Reviews for Gen-Y Cops
First and foremost, this movie was surprisingly released in 2000, and not in 1991 as it clearly looks. I'm still trying accept this. Let's just say the cinematography isn't a reason to see it. Gen-X Cops 2: Metal Mayhem (also known as Gen-Y Cops) is a thoroughly amateurish, incredibly cheesy Hong Kong attempt at a Hollywood-style blockbuster. I haven't seen the first Gen-X Cops movie, so I can't compare the quality between the two. The sequel, however, falls firmly into the "so bad it's (almost) good" category. The dubbing is atrocious, the fight and action scenes (while occasionally entertaining) are poorly choreographed, some of the acting is beyond awful, and the story is a mess of stolen robots, police officers trying to clear their names, maniacal hackers, and slapstick humor. Probably my least favorite thing about it was that it was simply too long and too often it was boring. I only watched the movie because of Maggie Q. (not nearly enough of her) and Paul Rudd (in his most ill-fitting role ever, though he still manages to be unintentionally funny). If you have similarly extraneous reasons or you just want to see a cheesy, weird movie, give Gen-X Cops 2 a shot. Otherwise, stay far, far away.
First off, I got this because it was Jackie Chan endorsed and a sequel. Well, if the first one was this bad then I don?t know why they made another, and that has to be the reason Jackie Chan doesn?t even make a cameo. Second, so action-comedies from Hong Kong aren?t bad. This is supposed to be an action-comedy but the action is pretty weak and the comedy is the bad kind of slapstick, Tokyo Raiders for instance. This one had nothing going for it. A last reason I watched this is what I want to dissect more. This movie stars Maggie Q and Paul Rudd in it. I was curious. Maggie has been in big action and yet in this movie she doesn?t have one real action scene. Paul Rudd, who I don?t think has been in any action movie plays the leader of the FBI team sent to Hong Kong. Even more so, he?s supposed to be the tough talking angry character. How did someone pick him for that? It is actually very comical because it?s played so straight at first. At the very end, when he has some comedic moments, their funny because it?s Paul Rudd. Shouldn?t he have been the comic part of this action comedy and not the other two clowns? See it to see Rudd completely out of place. And that?s the only reason to see it.
Lee B
No where near as good as the first. Maggie Q and Edison Chen do what they can.
Anthony Valletta
Super Reviewer
Gen-Y Cops Quotes
There are no approved quotes yet for this movie.
Discussion Forum
Discuss Gen-Y Cops on our Movie forum!