Tekkon kinkurîto (Tekkonkinkreet)
(2007)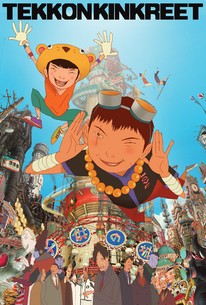 Tekkon kinkurîto (Tekkonkinkreet) Videos
Tekkon kinkurîto (Tekkonkinkreet) Photos
Movie Info
A pair of feisty young street urchins attempts to protect an unnamed metropolis from a diabolical villain whose plans to raze the urban landscape on the behalf of malevolent real-estate developers threatens to destroy the very soul of the city. Street-smart youngsters Black and White do their best to defend their territory from rival gangs as local yakuza leader Suzuki, fearing that the town has lost its zeal, plots a triumphant return to form. A lifelong criminal with a serious zodiac fixation, Suzuki (aqua The Rat) doesn't want to corrupt the city as much as he simply wants reinvigorate it with the kind of vibrancy that drew him to love it in the first place. Mr. Snake, on the other hand, wants nothing more than to profit as the buildings of the city crumble to make room for the massive amusement park planned by his wealthy clients. The only problem now is that Mr. Snake can't carry out his destructive deed while Black and White are still wandering the streets - of course that's nothing that can't be solved by a pair of sharp-shooting intergalactic assassins whose bullets always meet their mark. A metaphysical tale of survival in a city that seems to be poised on the brink of disaster, Tekkonkinkreet marks the feature directorial debut of longtime visual effects artist Michael Arias (The Abyss, Princess Mononoke). ~ Jason Buchanan, Rovi
News & Interviews for Tekkon kinkurîto (Tekkonkinkreet)
Critic Reviews for Tekkon kinkurîto (Tekkonkinkreet)
Audience Reviews for Tekkon kinkurîto (Tekkonkinkreet)
Tekkon Kinkreet is stunning and easily the best animated movie (I've seen) in years. It has the vibrancy and surrealism of Paprika, the emotional intensity and violence of Evangelion, with the urban action sequences and complex cityscapes of Akira. Of course it is not a simple mish-mash but has a character all its own and emphasizes on the need to have a place called home and people that are family.
Robert Brogan
Super Reviewer
Tekkonkinkreet is an absorbing, gripping, beautiful, eerie, and multi-layered fantasy. Even after seeing it multiple times, it has never lost its luster to me. Even after seeing several superb films over the years, Tekkonkinkreet is not only one of the all-time greatest animated films I've ever seen, but it is also one of the all-time greatest films I've ever seen, period. This is a film that requires the viewer to pay attention to the story, and it may even require multiple viewings to fully appreciate the symbolism, but also even the little things so much more. It's a complex and multi-layered film that feels completely and utterly alive in every way - the story, the well-rounded characters you grow to care deeply about, the stunning animation, Treasure Town itself, every line of dialogue, and every expression. It's hard not to lose yourself in this fantasy film - that is, if you have any taste in films and are willing to pay attention to the story. It's an ambitious and startling film about human nature that delves deep into the souls of its characters to expose both their darkest and brightest aspects as human beings, resulting in an emotionally-gripping and fascinating storyline that never gets dull for a single second. It's a shame that this film has gone largely unnoticed and was also eclipsed by Happy Feet (An absolutely horrible, completely unimaginative, insultingly stupid, festering pile of shit - to put it kindly and mildly). If you enjoy not only great animated films with a lot of depth, but also enjoy films with a lot of depth, Tekkonkinreet is a must see for anyone who has taste in films and is willing to pay attention to storylines.
Keenan Sullivan
This is the sort of movie that I would normally love, but the story is not there. The animation, is of course, fantastic, beautiful, and original. I may be unfair to this movie though, as I couldn't get past 70 minutes in. The plot was just plain blah and I didn't have that instant interest in Black and White, whereas the best scifi animes of this sort are only good if you care about the characters, otherwise it's just a pretty pictures romp, and that's all I saw here. Granted, many people think I overpraise Metropolis (2001) and underpraise the first Ghost in the Shell, so I'm not a good barometer, as when it gets to my fave genres, that's where I'm the most picky, and I couldn't pick out anything about this movie that made me *love* it or even want to watch it again.
_kelly .King
Super Reviewer
Tekkon kinkurîto (Tekkonkinkreet) Quotes
There are no approved quotes yet for this movie.
Discussion Forum
Discuss Tekkon kinkurîto (Tekkonkinkreet) on our Movie forum!