Teknolust
(2002)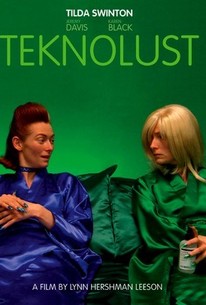 Movie Info
In this offbeat sci-fi-drama, Rosetta Stone (Tilda Swinton) is a scientist specializing in biogenetics who has made a major breakthrough in artificial biological engineering. Rosetta has created a type of Self-Replicating Automaton, which looks like a human being, but is in fact part machine and part living organism. In order to survive and reproduce, Rosetta discovers her SRAs need certain human genetic compounds that are found only in male semen. Hoping to kill two birds with one stone, Rosetta programs one of her SRAs, Ruby (also played by Swinton) to seduce men Rosetta has found through a website offering paid "fantasy dates," which will provide both needed materials and ready cash. Ruby brings back used condoms, and shares the contents with her fellow SRAs Marine and Olive (both also played by Swinton). However, after their assignations with Ruby, the men find themselves with a strange illness that leaves them with skin outbreaks and the inability to perform sexually. Two health investigators (James Urbaniak and Karen Black) begin interviewing the men infected, which sends them on a trail leading back to Rosetta and her research lab. Meanwhile, the more Ruby comes in contact with humans, the more she finds herself falling under the sway of human emotions, and she finds herself falling in love with Sandy (Jeremy Davies), a shy man working at a photocopying center. Shot on digital video equipment by acclaimed cinematographer Hiro Narita, Teknolust was screened at the 2002 Sundance Film Festival.
Rating:
R (for some sexual content)
Genre:
, ,
Directed By:
Written By:
In Theaters:
On DVD:
Runtime:
Studio:
Critic Reviews for Teknolust
Audience Reviews for Teknolust
½
78% "The user freindly reprodutive system."-Sandy (Jeremy Davies) Ummm, wow. Swinton's characters need sperm tea or injections (not the hot beef kind) in order to survive. This one is all over the place. Liked the art direction though.
FilmGrinder Stone
This is a fun, yet understated film and seriously, you can never go wrong with Tilda Swinton. I adore her so much.
Zandra Ellis
½
This felt to me like a Phillip K. Dick novel that had been cut short and directed by a computer Luddite. Sure, written in text it might seem fun to have computer viruses infect humans and clones control electronics with their fingers. In fact, the general concepts in the movie were fine. It was just the production of the film that ruined an otherwise charming story. Between iBooks, Microwave monitors and sad little ISA video cards, the techno babble in the film was extensively delivered as if the viewer had come into the conversation at the last possible minute to then only get the punch-line of the statement. Tilda Swinton did her best with a fairly anemic role, and made the movie worth what little could be gotten from it. A lot more tech-savy discussion on the events surrounding the plot and several key factors such as cyborg - human relations and you might actually have a fun psycho-intellectual flick. As it was, this was not very funny, and not a comedy.
Renley Renfield
Teknolust Quotes
There are no approved quotes yet for this movie.
Discussion Forum
Discuss Teknolust on our Movie forum!