The Telling
(2009)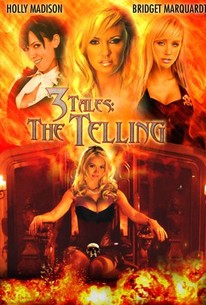 AUDIENCE SCORE
Critic Consensus: No consensus yet.
Movie Info
Three girls hope to pledge an elite sorority. As a final task, each must tell the scariest story she knows. The first is Dollface. When Tommy brings home an antique doll, his girlfriend is convinced that the doll is out to kill her. In Crimson Echo, a once A list star is lured into a film for which there might be no return. Lastly, Prank Call features three girls who overhear a murder on the phone, and the killer is now after them. Back at the sorority, the votes are in...but has someone taken murder to heart?
Rating:
R
Genre:
Directed By:
Written By:
On DVD:
Runtime:
Studio:
Critic Reviews for The Telling
All Critics (1) | Fresh (0) | Rotten (1) | DVD (1)
Not a single one of these vignettes are given sufficient enough time to develop and thus every minute of The Telling ends up feeling pointless.
Audience Reviews for The Telling
The Telling (Nicholas Carpenter and Harry Grigsby, 2009) There has been a long tradition, especially since Creepshow in 1982, of America attempting to do horror anthologies and failing miserably. The rest of the world has long since passed us by where they are concerned; the idea of America turning out something as good as, say, Rampo Noir is practically unthinkable at this point. The most recent anthology attempt to come past my poor, abused eyeballs is The Telling, which may be the worst horror anthology attempt I've ever seen. The framing story is woefully transparent (it doesn't help that the synopsis to be found on Netflix Instant gives enough of the game away that you'll be looking for it), and the three stories themselves are shockingly unoriginal; I didn't think anything Hollywood could do would shock me these days, but Carpenter and Grigsby were aggressive in being unoriginal here-we have a talking doll story, the tale of an actress who takes a job she regrets, and a slasher short. Seriously, guys, a talking doll story? If Telly Savalas were still alive, they'd have probably asked him to make a cameo in it. Sheesh. Add in the kind of acting that tells you in no uncertain terms that the casting director was after looks and not talent and one of the worst indie-rock soundtracks in history and you end up with this ridiculous mess of a movie, which gets a half star only because I finished watching it and it was not patently offensive. 1/2
Robert Beveridge
One line summary: Bad on acting, screenplay, music; strong on cleavage. ----------------- There is a bit of a grisly segment where a sorority girl is killed. We flash forward one year to an induction sequence at the same sorority. Three pledges get the challenge to tell the scariest story that they know. So the film anthology has its overarching context ("Sorority Sisters"). Story 1 (Dollface): A man and his girlfriend have a woman house guest for a couple of weeks. The man finds an antique doll in a dumpster. The doll is possessed, supposedly, and engineers the deaths of the two women, and manages to get the man blamed for it. Story 2 (Crimson Echo): A fading star gets fewer and fewer parts until she gets none when she's over thirty. Out of the blue, she gets a gig in Europe. She's desperate enough to take it. She's drugged and prepped. Then she meets her crew, who are all undead. What becomes of her? Story 3 (Prank Call): Three young women go out to catch a horror fest, but did not get tickets first. They return home with the hope that the cable guy is done. They get into telephone pranks; things go downhill from there. After the three stories are finished, the sorority rejects all three of the pledges. One of the pledges is the sister of the girl in the first sequence. Guess what happens next. -----Scores------ Cinematography: 7/10 Reasonably good. Sound: 5/10 Also reasonably good. Some of the incidental music was rather enjoyable, but I could not figure out what it had to do with the film. Acting: 0/10 John D'Aquino was the only one I recognized as an actor. The rest were uniformly terrible. Screenplay: 0/10 Oi, as bad as the acting. Well, perhaps worse: nothing new, nothing scary, nothing remotely believable.
Ed Collins
This really should be listed as a comedy as it's laughable that anyone would find this scary at all. The three stories told are all filled to the top with terrible acting and the special effects are worse than some of the things I've seen on film in a long while. Avoid this one. Beware.
Jason Spencer
Super Reviewer
The Telling Quotes
There are no approved quotes yet for this movie.