The Brute and the Beast
(1966)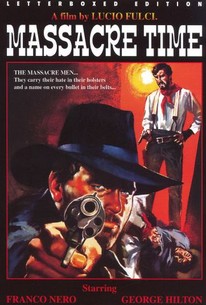 AUDIENCE SCORE
Critic Consensus: No consensus yet.
Movie Info
Although primarily known for gruesome 1980s horror films like L'Aldila and Lo Squartatore di New York, it took cult Italian director Lucio Fulci until this bloody spaghetti Western -- his 17th film -- before he began exploring the dark recesses of insanity and Sadean bloodshed which marked his later work. Bolstered by a commanding star turn from 24-year old Franco Nero, fresh from another Western success in the same year's Django, this dark, violent story -- which many fans consider the first "true" Lucio Fulci film -- begins with a man's murder at the hands of the insane Jason "Junior" Scott (Nino Castelnuovo) and the credits appearing over his victim's blood washing downriver. The rest of the film deals with the efforts of young prospector Tom Corbett (Nero) to avenge the death of his father...or the person whom he believes to be his father, for the familial relations in this film are as twisted as Fulci's violent imagery. At times, the film presages the hallucinatory atmosphere of L'Aldila, with Corbett returning to his family farm only to find it destroyed, and wandering the barren, windswept wreckage amidst a group of foraging pigs. George Hilton turns in a fine performance as Corbett's orphan half-brother, Jeff, an alcoholic whose years of dissolution have curbed neither his gunslinging talents nor his thirst for revenge, and the supporting cast does well by Fernando di Leo's somber script. Giuseppe Addobbati co-stars with Tom Felleghy, Salvatore Borgese, and Lynn Shayne.
Rating:
NR
Genre:
, , ,
Directed By:
Written By:
In Theaters:
On DVD:
Runtime:
Studio:
I.F. Produzioni Cinematografiche
Critic Reviews for The Brute and the Beast
There are no critic reviews yet for The Brute and the Beast. Keep checking Rotten Tomatoes for updates!
Audience Reviews for The Brute and the Beast
130427: It's funny how tastes and opinions differ. Flixster's synopsis makes this out to be a classic. Perhaps if compared to all spaghetti westerns? And my opinion of the first sequence is totally opposite of Conner R's. I figure if you can get by the first ten, the rest of this film is pretty good. It's classic spaghetti and contains many of the features that make such films fun. Lots of silly action and one classic tactic by Corbett (the somersault to land behind three bad guys). Speaking of "Corbett", that's Franco Nero, star of Django. Perhaps this film is a classic as they consider Django one. Made me smile. Definitely worth a one watch.
John Redshaw
How could a Spaghetti Western combining the keen eye of iconic cult film director Lucio Fulci and the star talents Franco Nero and George Hilton not be good? As I predicted this unbeatable trinity of cult icons is an Italian film fan's wet dream making "The Brute and the Beast" (aka "Massacre Time") one of the all time best Spaghetti Westerns a fan can get his hands on. Nero plays a very Django-like character that arrives home to find that a land baron and his sadistic son are bullying their way into buying up all the land in the area. Nero, with the help of his alcoholic brother (George Hilton) are hell-bent on seeking revenge, but Nero discovers he has more ties to the land baron and his son then he ever thought possible. I have seen dozens of Fulci films with "The Brute and the Beast" being the oldest film I have yet to see in his lengthy filmography and even early in his career he had an amazing eye for gritty style and atmosphere. As a matter of fact it makes me almost sad to see how good he was back in the glory days as most his films in the latter half of his career are just down-right terrible. Hell his style here is on par with the Leone films to come prior with catchy camera angles and a plethora of violent action scenes. There's no gore to hint of his horror films to come but he still liked to shock audiences shown with a graphic dog attack, a violent whipping and even the brutal murdering of a woman and child. Franco Nero, hot off his debut in Sergio Corbucci's "Django", plays a similar stoic role. Compared to more lively roles he would play later, his character here is a little more stale but he still has plenty of screen presence. Nero is actually out shined by new-comer George Hilton who gives a tour-De-force performance as his alcoholic brother. Unlike Nero's stoic, emotionless character, Hitlon's has a cynical, almost goofy outlook on life and his stage play training shows through with his magnificent performance. Hilton was so good that he would rightly earn his own place in Spaghetti Western history matching Franco Nero's star power and thus became a star of uncountable Italian films in varying genres to come. "The Brute and the Beast" is well deserving of its reputation in the Spaghetti Western genre as it is not only one of the best films in Lucio Fulci's filmography, but one of the best Spaghetti Westerns in general with a violent, gritty tone and an unbeatable cast. The film was only previously released in muddy Full Frame VHS transfers until Wild East unleashed their beautiful anamorphic widescreen release with a plethora of extras, including a rare audio interview with Lucio Fulci further proving what an utter jackass he was. He may have been a jackass, but damn he did make some great cult movies with "The Brute and the Beast" being one of best.
Eric Reifschneider
This is pretty bad, but the opening manhunt scene is worth the whole movie. This doesn't even feel like a Lucio Fulci movie, simply because it takes itself too seriously. Being a complete knock-off of Fistful of Dollars, it just degrades whatever originality there is. Sadly, the usually great Franco Nero is dubbed with this outrageous hillbilly accent that makes him look like a complete idiot. This should've just tried something new instead of cashing in on an existing property.
Conner Rainwater
Super Reviewer
The Brute and the Beast Quotes
There are no approved quotes yet for this movie.