The Temptress
(1926)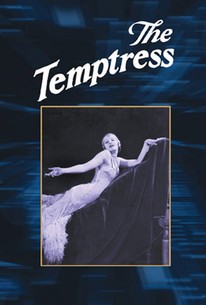 AUDIENCE SCORE
Critic Consensus: No consensus yet.
Movie Info
The Temptress was Greta Garbo's second American film, and while it may strike modern viewers as excessively melodramatic, Garbo is always worth watching. The star plays Elena, the wife of Monsieur Canterac (Lionel Barrymore) -- and the mistress of rich Parisian banker Monsieur Fontenoy (Marc MacDermott). When the banker's Argentine friend Robledo (Antonio Moreno), a dynamic young engineer, pays a visit to Paris, the fickle Elena immediately falls in love with him. Upon learning that Fontenoy has lost his fortune, Elena dumps him and returns to her husband, whereupon the banker kills himself. Evidently not content with ruining one life, Elena heads to Argentina and goes to work on Robledo, leading to a bloody whip duel between Robledo and his rival Manos Duros (Roy D'Arcy). Inevitably, Elena drives Robledo to perdition and indirectly causes the destruction of the magnificent dam upon which he has worked all his life. Banished from Argentina, she returns to Paris, where she spends the rest of her days as a seedy streetwalker. At least, that was the ending of the European version of The Temptress. The American version incredibly ends happily, five years after the above-described events, as Robledo and the reformed Elena triumphantly supervise the opening of his now-repaired dam! Initially, the film's director was Garbo's mentor-lover, the brilliant Mauritz Stiller, but he was replaced halfway through by the competent but uninspired Fred Niblo -- and the finished picture shows this division of interests all too clearly.
Rating:
NR
Genre:
,
Directed By:
Written By:
In Theaters:
On DVD:
Runtime:
Studio:
Warner Bros.
Critic Reviews for The Temptress
All Critics (2) | Top Critics (1) | Fresh (1) | Rotten (1) | DVD (2)
In many respects this picture is a distinguished piece of work, wherein Fred Niblo, the director, keeps the audience on the qui vive.
New York Times
Top Critic

Ozus' World Movie Reviews
Audience Reviews for The Temptress
½
Well, I wasn't too impressed with this movie, but I didn't get to see it all because the DVD wasn't working right! Anyway, this movie seems to be an exotic adventure and a tragic romance story, which is interesting, but I found the characters kinda dull. Maybe I'll see this again someday, and I'll get to see the end.
This silent drama provides an interesting role for Greta Garbo, who was still rather young at the time. It also has some good set pieces created by directors Fred Niblo and/or Mauritz Stiller, which liven up the story considerably. The supporting cast also features a couple of good performances, and all of the strengths help to make up for a rather downbeat story. As "The Temptress", Garbo is certainly believable as a woman who attracts the attention of every man around. What makes it more interesting than most such scenarios is that both the script and Garbo's performance leave some ambiguity about what the character is really like inside, and in any case she has a lot more depth than the male characters. The best supporting performances come from Lionel Barrymore and Marc McDermott, as two of the many men who desire her. Several sequences are filmed very nicely. Fontenoy's dinner party is an effective display of the hollow lifestyle it depicts, and there is some real danger and menace in the fight scene between Robledo and Manos Duras. The pace overall is uneven, and it does have some slow stretches that add unnecessarily to the running time, but the good parts make up for this. At least one DVD version includes a variant ending that changes the tone considerably, so there must have been some uncertainty about how it should close. Garbo's talent and screen presence are both easy to see, and in later features her characters would give her better opportunities to show them. She does a very good job here, and makes her character much more interesting than it would have been with a lesser performer in the role. Overall, it's a movie worth seeing for silent film fans, with some real highlights that make up for the occasional shortcomings
josh callis
I have been curious about Garbo films, and I have started my adventure in her films with 'The Temptress'. This was her second film and she was not an established star yet...Here are some points I noticed: - I found that the soft focus style during the first scenes, especially when Elena (Garbo) takes her mask off (very excited during this scene, I must add), has a similarity to the look a singer named Alison Goldfrapp had during the release of her first album, Felt Mountain. My partner and I noticed this, and thought it would be interesting to point out. The blurring of background objects would help the viewer direct their view to the actors. - The score was very adequate in enhancing the drama or lightness of the various scenes. - The fades in between scenes of Paris and Argentina were very interesting. I found it to be creative, especially because there were no optical printers at the time this movie was filmed. The fades had to be done within the camera,backing up on filmed footage to create the fades. Must have been a very intricate process as to not mess up the footage already shot. - I enjoyed the 'foot fetish' scene during the tracking shot that was done over and under the banquet table in the scenes showing Fontenay's dinner party. - Another scene that caught my eye was the distorted mirror that Elena looked into while her stay in Argentina. I am a fan of distortion and this shot was well done. Overall this was a great film to spark my interest in Garbo's films.
Nick EaViL
The Temptress Quotes
There are no approved quotes yet for this movie.