Ten 'til Noon
(2005)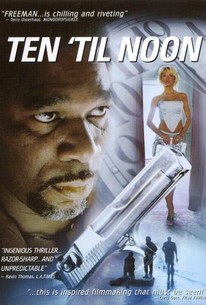 Movie Info
As the clock counts down the final minutes of what will likely be the last morning of Larry Taylor's life, events unfolding simultaneously at another location detail precisely how what seemed to be a typical home invasion may in fact be something far more sinister. Larry Taylor was jet-lagged when he awoke to find two strangers in his bedroom, and in the next ten minutes he will be forced to make some important decisions that could mean the difference between life and death. Only by acknowledging the events unfolding elsewhere at precisely the same moment can it be determined who these men are and what they truly want, and as the connection between the two events slowly begins to come into focus, so, too, does the truth.
Critic Reviews for Ten 'til Noon
Audience Reviews for Ten 'til Noon
½
An original film that plays with narrative structure and tweaks the expectations audiences bring with them from long experience with crime flicks. What's missing is any thematic underpinning or true character depth; this is basically a jigsaw puzzle. But it's a dandy jigsaw puzzle, and that's a pleasure in itself.
Lee Mayo
I saw this last year at the Phoenix Film Festival. I loved it. If you like movies that follow multiple story lines (e.g. Pulp Fiction) you will enjoy this movie.
B K
Ten 'til Noon Quotes
There are no approved quotes yet for this movie.
Discussion Forum
Discuss Ten 'til Noon on our Movie forum!