Tenacious D - The Complete Masterworks
(2003)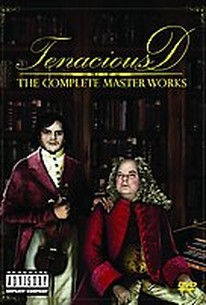 AUDIENCE SCORE
Critic Consensus: No consensus yet.
Movie Info
Rating:
NR
Genre:
,
On DVD:
Runtime:
News & Interviews for Tenacious D - The Complete Masterworks
Critic Reviews for Tenacious D - The Complete Masterworks
All Critics (2) | Fresh (1) | Rotten (1) | DVD (1)
Fans of the band Tenacious D will love this movie. Others may want to forget about it.

Quad City Times (Davenport, IA)
Comedy sketches and mind-blowing rock and roll played by two really fat guys with kick *** guitar skills and decent singing voices.

It's a must for any Tenacious D fan and an immediate purchase for those of you looking for the FUNNY stuff instead of the generic crappoople we've been force fed lately
Audience Reviews for Tenacious D - The Complete Masterworks
I watched some more of the Complete Masterworks. Being a fan of the D, I have to say that it's great. Completely disgusting at some points but [url="http://www.catch-the-rainbow.com/Oddz&Endz/O&E/TenD/TENACIOUS-D+DIO.jpg"]the D through and through. [/url] Anyway, there are two DVD's in this package. The first has a live concert and some HBO episodes. The episodes are hilarious. They revolve around the D performing at an open mic night at a local bar. The first few are really really good, especiallyThe Search for Inspirado. The second disk has some HBO Short films. JB's BJ, Rock Star Sperm for Sale, and Butt Baby. All three of these are pretty gross but hi-larious. Also it has TV Appearances including the Crank Yankers appearance/ music video for "Friendship". It also has the Spumco video for "Fuck Her Gently" which is great. I highly recommend this DVD for any D fans. There's much more that this DVD has to offer. More than I can tell. I haven't yet made it all the way through the concert. They're great live, though. Really great. That's it for now! KG and LEE!!! [img]http://www.columbusmusic.com/Images/news/354/1.jpg[/img] [img]http://graphics.jsonline.com/graphics/owlive/img/apr02/tenaciousd041102_big.jpg[/img]
Emily Reeve
[img]http://www.thedigitalbits.com/articles/miscgfx/covers3/tenaciousdmasterworksdvd.jpg[/img] one of my buddy's let me borrow his copy, so i watched it today. i knew it was gonna be golden, but how golden was what i was looking for. this is one of the best 'music/movie' dvd's i've ever seen. i'm not really into that whole "thing" for the most part. it's rare that i want my music and movies to mix, because normally it's a letdown... like reading a book then seeing the movie based on it. this dvd a two disc is packed full of rock hard metal in the way that only the D can do it. the first disc is a concert in london, where they rocked out hard, and hbo episodes they did. the second disc which i prefered was tv apperiences, videos, and making of the videos, it also includes some short films they did. they haven't put out anything for a few years now... but it's still comedy at it's finest. two rock thumbs up.
dustin holloway
½
The best thing about a nice bout of crippling, boredom-fueled depression? Lots of fetal position, laying on the bed, movie watching. Just finished up the Complete Masterworks of the D. And it was good. The short films were more of the gag-inducing kind than the laugh out loud kind. And, by the end, if I heard Wonderboy or Tribute one more time, I was going to kill myself. I'm sure I would have appreciated it more if I didn't sit through all of it at once. I was huge on the D a few years back. I saw them at the House of Blues in Chicago back before they were huge, and they played Chicago during the filming of High Fidelity. John Cusack introduced them, and he was laughing so hard that he nearly fell off the balcony. And it wasn't long before I was trying to pick myself up off the ground after a lovely girl standing next to me decided to taste some of the sasquatch shit that had landed on my shoulder. Man. That was an amazing show.
M Rank
Discussion Forum
Discuss Tenacious D - The Complete Masterworks on our Movie forum!
News & Features