Tender Comrade
(1943)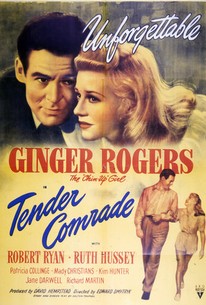 AUDIENCE SCORE
Critic Consensus: No consensus yet.
Movie Info
In this film, set during WWII, Jo is a young woman whose husband is off fighting the war. Though pregnant, Jo finds a job, saving her money by living with her female co-workers. The women pool their salaries and divvy up responsibilities, as they wait for news from the Front.
Rating:
NR
Genre:
,
Directed By:
Written By:
In Theaters:
On DVD:
Runtime:
Studio:
RKO Radio Pictures
Audience Reviews for Tender Comrade
6.5/10. Fine propoganda film, it gets a little bit deep in the sentimental propoganda angle, but then again it was 1943. Sweet, funny and touching, fine acting and a well written story.
James Higgins
[i]Tender Comrade[/i] was written by Dalton Trumbo and directed by Edward Dmytryk. According to Robert Osborne on TCM, it was produced by Adrian Scott, but the credits say David Hempstead and I can't yet find any further proof of Scott's participation. Why does it matter? Trumbo, Dmytryk and Scott are three of the Hollywood Ten and all had their careers vitually ruined by Joseph McCarthy and the blacklist. (Norma Barzman has written an excellent memoir on the subject, [i]the Red and the Blacklist[/i]. Dmytryk has also written a memoir on the subject, but I haven't read it yet.) [i]Tender Comrade[/i] is the story of five so-called "war widows." Four of them work in a factory together while their husbands fight the Nazis. They're tired of living in one-room apartments, so they pool their resources to rent a house. Their joined by a fifth when they hire a German housekeeper who reminds the moviegoing public that most Germans living in America weren't too crazy about Hitler either. Ginger Rogers stars with Robert Ryan as her husband (seen mostly in flashback) and Kim Hunter (from [i]Streetcar[/i]) and Ruth Hussey (best remembered as Liz Imbrie in [i]The Philadelphia Story[/i]) play two of the other wives. (Patricia Collinge and Mady Christians round out the cast as the other wives, but I don't know who they are.) It's a well-done, if somewhat predictable picture. Just from watching other homefront films, it's pretty clear that someone's gonna have a baby, someone's husband is gonna surprise her with a visit and someone's husband is gonna die. But I'm not going to tell you which happens to who. I know. Rodolfo is cruel in his reticence. I'm currently reading Ginger's memoir and she was virulently opposed to Communism, mainily due to the party's atheism (Ginger was a Christian Scientist). When making the picture, she felt that some of her speeches were anti-American and they were subsequently given to another actress. I don't know who these speeches were given to, as I finished the film about 25 minutes ago and couldn't find much in the way of propaganda. The spirit of communism is there in the sense that the four women combine their incomes to afford a better place to live. And they pay their housekeeper by splitting their combined spending money 5 ways. But that's really it. (Both of these ideas, incidentally are thought up by Rogers's character.) In fact, there are more than a few scenes or speeches extolling the virtues of America's participation in the war. Ginger read Hussey the riot act when Hussey's character gives an Ayn Rand-like speech on the inconvenience of rationing. The one who has a baby has a monologue about why the baby's father is not around. The fact that [i]Tender Comrade[/i] was apparently viewed as proof of the communist influence in Hollywood sheds even more light on the paranoid panic that swept the country in the late 40s. The film itself is quite enjoyable. Ginger gives a very affecting performance as the Dorothy, moving when faced with her husband's imminent departure and highly amusing when recalling her comically enraged reaction to his proposal. Hussey is just right as a rather hard-boiled Blanche and Hunter plays Rose with an innocence that mercifully never gets cloying. Patricia Collinge's Sophia is warm, while Mady Christians's Gay Cook from the Pilot Episode reminds us that some Germans in the 1940s were rather nice...but only the ones who emigrated to America. The film never comes off as overly sentimental, and offers an interesting glimpse at the culture of homefront America during World War II.
Rodolfo Raines
Tender Comrade Quotes
There are no approved quotes yet for this movie.
Discussion Forum
Discuss Tender Comrade on our Movie forum!