Tenshi no tamago (Angel's Egg)(Egg of God)
(1985)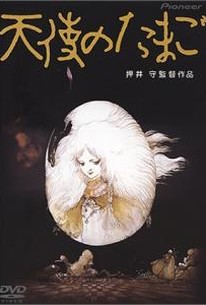 AUDIENCE SCORE
Critic Consensus: No consensus yet.
Movie Info
An unnamed young girl, carrying a large egg, wanders about a surreal, nightmarishpost-apocalyptic world collecting water in glass bottles. A man (also nameless),carrying a cross over his shoulder, crosses her path, and begins to follow heraround during her daily routine. Despite her worries for her beloved egg (thecontents of which she refuses to tell him), she eventually grows to trust him,even though his intentions remain mysterious.
Rating:
NR
Genre:
, , ,
Directed By:
In Theaters:
Runtime:
Critic Reviews for Tenshi no tamago (Angel's Egg)(Egg of God)
There are no critic reviews yet for Tenshi no tamago (Angel's Egg)(Egg of God). Keep checking Rotten Tomatoes for updates!
Audience Reviews for Tenshi no tamago (Angel's Egg)(Egg of God)
Visually poetic and narratively sparse, Angel's Egg is a restrained and atmospheric story of a biblical flood that strands a young girl and a messianic figure in the remains of a lost civilization, leaving the amalgamation of water imagery, religious overtones, and alien-like symbolism up to the interpretation of the viewer.
Reece Leonard
This one's a hard shell to crack but once you look behind the apocrypha and the relevant dystopic symbols, you'll come to an inner closure, one that lies beyond the little girl's hope for a "better tomorrow" and the (take it or leave it) "Anti-Christ" figure's idiosyncratic expression throughout the film. A panorama of desperation and unearthly disaster, all the more present by the Gothic environment, alongside a creeping score.
Dimitris Springer
Super Reviewer
Exceptional piece of animation that manages to encapsulate the idea and feeling of desolation and the hunt of the human soul for meaning with the most striking poetic imagination. Brilliant sequences such as the hunt of the shadow-fishes, dense symbolism and a powerful visual aspect (Yoshitaka Amano probably has something to do with it) are among the great strengths of the film. Despite being very experimental both in narrative and visuals and for that somewhat obscure (in a good way), the mesmerizing rhythm is probably the real feat of this film. It clearly echoes Tarkovsky (look at the final scene with the zooming out and compare it with Solaris) and at times even Kubrick's 2001, but it is something totally unique. At the centre of the film lies the relation and juxtaposition of a little girl who acts on pure irrational faith and the soldier who struggles with nihilism and acts on the basis of his experience (he searched for the ''bird'' but never found it). Despite this being a cheap production the use of 'money' shots is so sophisticated that actually enhances the rhythm. The music is also excellent and captures the atmosphere and the mood with simple and minimalistic melodies. Mamoru Oshii never managed to replicate the artistic heights that he achieved with this film. Sure, Ghost in the Shell is great, the two Patlabours interesting and his live-action at best kitsch, counterculture silliness, but they luck the vigour of imagination and the sincerety of this early work (an exception would be the very good surreal episode that he made for the Twillight Q). In its short running time its a tour-de-force of emotion and poetic vision. The final scene remains one of the most heart-breaking revelations I've seen in a film (a world that is actually the moss on the hull of Noah's Ark?!! - BRILLIANT!). Too bad that this underrated movie remains almost unknown...
George Matalliotakis
Super Reviewer
Discussion Forum
Discuss Tenshi no tamago (Angel's Egg)(Egg of God) on our Movie forum!
News & Features