Terminal Island
(1973)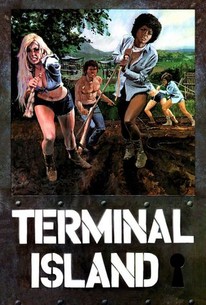 AUDIENCE SCORE
Critic Consensus: No consensus yet.
Movie Info
After female prisoners arrive at an island prison full of male convicts, they are brutalized and fight back in an attempt to set up a more democratic system. This exploitative drama includes performances of Tom Selleck and Roger E. Mosley of television's Magnum P.I.
Critic Reviews for Terminal Island
There are no critic reviews yet for Terminal Island. Keep checking Rotten Tomatoes for updates!
Audience Reviews for Terminal Island
When going into "Terminal Island" I was expecting an earlier, lower budget, trashier exploitation version of "Escape from New York." Not only did it deliver on those accounts but it was also a more professionally made example of its ilk and manages to even please fans outside of the trashy exploitation ring. In the future capital punishment is now against the law. In its place criminals are exiled to a heavily guarded island where they are forced to fend for themselves in order to survival. A women recently sentenced to the island is forced against her will to provide physical labor, of the farming and sexual, kind to a sadistic self-proclaimed dictator (Sean Kenney). Being rescued by fellow prisoners, they band together with brains, bosoms and brawn to bring the psychotic "duke of terminal island" down. Though it can be described as an action-adventure flick, "Terminal Island" at its heart is pure crass exploitation and takes full advantage to show boobies and extreme violence at every opportunity. What makes it rise above other films in the genre is that it actually takes time for character development and some good old fashioned action to appeal to general film fanatics. The cast is extremely strong for this type of film, including early rolls for future Magnum P.I. costars Tom Selleck (as a doctor) and Roger E. Mosley. We are also graced with strong performances by Don Marshall, Sean Kenney and future "Vegas" star Phyllis Davis and director Stephanie Rothman handles her cast and low budget well, learning her trade from her earlier Roger Corman production "The Student Nurses." Though "Terminal Island" today is mostly known as an early exploitation film for future super star Tom Selleck, it is far better than that. Sure it's an exploitation film at heart but it still has enough other elements to please 70s film fans in general with interesting characters and numerous action sequences. I was thoroughly entertained by the film and any self-respecting drive-in cinema fan should be also. Multiple DVDs versions exist but only Code Red's beautiful widescreen release is fully uncut.
Eric Reifschneider
An early role for Tom Selleck, and loaded with B-listers, this tale about a prison island loaded with murderers left to govern themselves is a pretty decent little time-waster. Things never get as sleazy as I sort of expected them to (which may be due to the female director, but that's complete speculation on my part), so that kind of surprised me, but what is shown is sufficiently indicative of how awful the conditions are, and it all builds into an explosive finale. Decent little rental if you have the chance to check it out.
Bill Bryant
Terminal Island Quotes
There are no approved quotes yet for this movie.
Discussion Forum
Discuss Terminal Island on our Movie forum!