Terminus
(2016)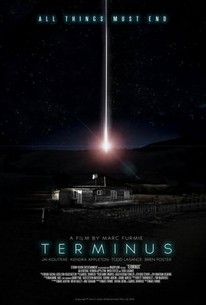 AUDIENCE SCORE
Critic Consensus: No consensus yet.
Movie Info
Blinded by the light of a falling meteor, David has a devastating car accident, leading to a profound discovery: an extra-terrestrial organism that may contain the secret of life itself. When David goes missing for two days, Annabelle searches for her father only to discover him wandering the forest, without so much as a scratch. David's mysterious reappearance draws the attention of federal authorities and gives Annabelle reason to doubt his sanity. But David has a new sense of purpose, fueled by nightmarish visions. Driven by what he believes is an otherworldly purpose, David must convince Annabelle to believe him and complete his task before government agents can stop him, and before the world destroys itself.
Critic Reviews for Terminus
All Critics (2) | Fresh (1) | Rotten (1)
Terminus is slow moving and often underlit - presumably in the interests of ambience, but the murkiness gets monotonous and the creepy soundtrack music does little to alleviate the torpor.

Go in with mild expectations and great nostalgia for old school science fiction cinema and you won't be disappointed with Terminus.
Audience Reviews for Terminus
½
This is a pretty interesting sci-fi movie without really much of the sci-fi. There is an extraterrestrial organism that crashes to earth that may contain the secret to life. All of this is set against the backdrop of an impending thermonuclear war. Because of that, there are these government-types on the search for these meteors as they feel this alien organism can help win the war for the United States. But David. who found the organism, does not want to give it up as it can help give earth and humanity a clean slate if it ever came to that point. I don't know why, but parts of the film legitimately reminded me of Close Encounters of the Third Kind. Thematically, of course, they're vastly different movies as Close Encounters deals more with the notion that this is a once-in-a-lifetime with beings from another planet and how incredible that experience would be. This movie deals with darker themes like, as mentioned, the threat of nuclear warfare and what the threat of that would drive people, in this case the government people, to do. In many ways, it's not difficult to understand their search for this organism as it could help them win the war. But, at the same time, it's also keeping with the cycle of violence that has swept the world since, basically, its existence. The organism, according to David and how he perceived it, has been sent here to help the world get a new start and not help continue this violent cycle. So, in many ways, they do attempt to flip the script as David, our protagonist, is portrayed more selfishly as he doesn't want the organism to be used for purposes that might help the U.S in the war, whereas the government people are desperately searching for it to avoid more casualties and to, maybe, help win the war. So, at the very least, the film is actually a little more thoughtful than it might've seemed at the beginning, since these are some very interesting ideas to explore. What would one do if put in the same situation? Personally speaking, the way I see it, and if I had to make that choice, I'd probably go with start of with a clean slate. And I say that, because if the organism is used to win the war then we're really not changing absolutely anything about our future. Because, the fact of the matter is, there will probably be another war in the future. That's not even a guess, that's a guarantee. So, really, if we could, I'm sure the majority of people will choose a clean slate over continuing this cycle. Unless you're some sort of fucked up individual and there are a lot of those out there. Anyway, I don't really know how to rate this movie, because, like I said, the film is actually quite thoughtful in its story. With that said, it's not like the story itself is told in a great manner. Like I find the whole thing to be a little too obvious. Like whenever anyone is watching tv or listening to the radio, all they're doing is talking about the war. And, I don't know why, that was a turn-off. I wouldn't have minded if it was one or two scenes, but, and even though you can only read the newscast through the captions, it felt a bit forceful. I don't know, it felt like they were trying to make too big of a deal about this. And, again, I understand the need, the threat of nuclear warfare is something a lot of people fear nowadays. But, I don't know, that heavy-handedness held the film back. The acting is somewhat solid, though there are some obvious weaknesses on that front. The cinematography is definitely better than its budget would probably suggest, but it's not like we're looking at Oscar-quality visuals here. Like I said the story was thoughtful, I just wish the threat of nuclear war was a little more subtle. Like maybe there's no clue yet as to how bad things actually are, that might've worked better. Who knows? But, yea, even though I gave this film two and half stars, I still liked the film. It has its flaws and everything, but I have to applaud the fact that at least they made an effort to make a good movie with strong ideas. It doesn't always hit its marks as well as it should, but it's still an encouraging movie to see. I'd actually recommend this movie, it's on Netflix, even though I'm sure a large percentage of people won't end up liking this. I still think it's worth watching in spite of everything.
Jesse Ortega
Super Reviewer
Terminus Quotes
There are no approved quotes yet for this movie.
Discussion Forum
Discuss Terminus on our Movie forum!