Terms And Conditions May Apply
(2013)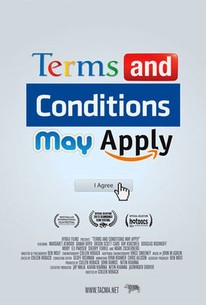 Terms And Conditions May Apply Videos
Terms And Conditions May Apply Photos
Movie Info
Admit it: you don't really read the endless terms and conditions connected to every website you visit, phone call you make or app you download. But every day, billion-dollar corporations are learning more about your interests, your friends and family, your finances, and your secrets... and are not only selling the information to the highest bidder, but freely sharing it with the government. And you agreed to all of it. With fascinating examples and so-unbelievable-they're-almost-funny facts, filmmaker Cullen Hoback exposes what governments and corporations are legally taking from you every day - turning the future of both privacy and civil liberties uncertain. From whistle blowers and investigative journalists to zombie fan clubs and Egyptian dissidents, this disquieting exposé demonstrates how every one of us has incrementally opted-in to a real-time surveillance state, click by click- and what, if anything, can be done about it.(c) Variance Films
News & Interviews for Terms And Conditions May Apply
Critic Reviews for Terms And Conditions May Apply
Audience Reviews for Terms And Conditions May Apply
I have never rated a film on any website before. I have never created an account on a website which is primarily used for film ratings. I created this account for the sole purpose of rating this documentary 5 stars. The insights are incredible. The information being gathered and publicized is necessary and, in my opinion, should be heard by ever single person on the face of the earth that has ever used any piece of modern technology. If you've ever used a phone (landline or cellphone [smartphone, flip phone, or an 80's brick phone), a computer (your personal computer or laptop, one at work or even at the library), a TV with any provider, etc., you absolutely much see this film. I have created accounts and will post this review on IMDB, Metacritic, and Rotten Tomatoes.
Brittany Oyster
½
"Term and Conditions May Apply" is a great documentary that is a wake up call to anyone who believes that once you share something online about yourself, that is actually 100% private. Watching this documentary you almost feel like you are rapidly being slapped in the face by companies and certain individuals who really do not care about what you think, they will only make it so that they get money while you are being exposed. For anyone who has not ever read the terms and conditions before clicking the agree button, maybe you should give this film a watch instead. This is a very true representation of the direction our world is going, and it is terrifying. This is a very well-made film that not only makes me think differently about what I am saying yes to, but to whom I am saying it to and who I am giving access to. Overall, this is a great documentary that I believe everyone who is an avid social networking user should view.
Brilliant documentary about Internet site terms and policies, and it shows some shocking facts that what we post online can be shared to the government. This is an eye opening film, but at the same, the material presented here is not new and that's why you have to take measures to protect yourself on the internet. Like for me, I use Facebook quite a lot due to my job, but I also add more memes and hilarious pics than personal information, because in the end, you never know what is being shared on Facebook and other sites. The film is a well researched and has plenty of great interviews as well, and it's a well research subject for those interested in the subject. For people wanting to know what really goes on when you sign up with the terms and conditions. The film shows that Government can use the info you post on the internet to spy on you. I think that this is shocking, disgusting, and make you think twice about the fact that what you post on the internet can put you on in hot water. I think that we should be entitled to privacy and are entitled to have our rights without having fear for what we post on the internet. In fact most of the data that we type in on the internet can be constantly be misused, and that our right to freedom is in jeopardy. There should be some new laws to protect citizens of not being reprimanded of what they post on the internet. This is a well crafted documentary that raises awareness of what is really going on when you click the "I Agree" options of the Terms and Conditions of various websites.
Terms And Conditions May Apply Quotes
There are no approved quotes yet for this movie.
Discussion Forum
Discuss Terms And Conditions May Apply on our Movie forum!