Terror at Blood Fart Lake
(2008)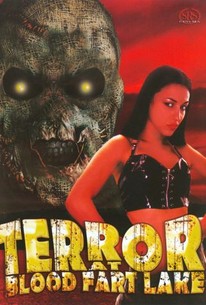 AUDIENCE SCORE
Critic Consensus: No consensus yet.
Movie Info
An evil killer dressed like a scarecrow stalks a group of horny teens vacationing at Blood Fart Lake. As the body count starts to pile up, you won't know whether to scream in terror, or howl with laughter.
Rating:
NR
Genre:
,
Directed By:
On DVD:
Runtime:
Audience Reviews for Terror at Blood Fart Lake
Let this be a warning to those who are unfamiliar with Terror at Blood Fart Lake. This film is TERRIBLY low budget. In fact, the film gives off a vibe as though it was spawned by a group of drunken friends over the weekend. The story (or lack thereof) is a direct spoofing of a slasher horror movie, concerning a laughable group of stereotypes (nice guy T-shirt designer, 1940's actress, fat goth chick, 80's New Jersey Slimeball, and a metalhead) who head out to Blood Fart Lake, where supposedly a killer haunts the area. The group happens upon the caretaker (played by Josh Suire, a hilarious combination of Jack Black, Andy Dick, and an afro that supplies most of the film's laughs) who befriends the group who are systematically killed off one by one by the masked killer. Meanwhile, a determined female assassin makes her journey towards Blood Fart Lake to take someone out, but not before engaging in an on and off relationship with a local hillbilly (also Josh Suire). I'll be honest with you, unless you are in the know in terms of low budget underground horror industry folk (or mainstream for that matter), the constant barrage of jokes will fly over your head quicker than this film's run time. I went into this genuinely ready to hate the hell out of this movie, but I was vastly tricked as this insanely low-budget movie managed to incite more laughs, chuckles, and howls out of me than 95% of the mainstream comedies to have come out in the past year. This film is highly low-brow and very juvenile, and I loved every second of it. This cast and crew of unknowns will probably never achieve the greatness in celebrity that they deserve, which is a shame, because Terror at Blood Fart Lake was a fantastic watch for the juvenile, immature kid in me. A real surprise. Please don't be an idiot and rent this with expectations of greatness. This is meant as pure, cheeky fun.
Jason Duron
Terror at Blood Fart Lake Quotes
There are no approved quotes yet for this movie.