Terror at Tenkiller
(1986)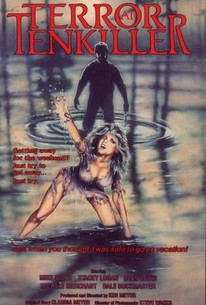 AUDIENCE SCORE
Critic Consensus: No consensus yet.
Movie Info
Two young women go to the mountains for a retreat and find themselves in the midst of murderous goings-on.
Rating:
NR
Genre:
,
Directed By:
Runtime:
Critic Reviews for Terror at Tenkiller
All Critics (0) | Fresh (0) | Rotten (0)
The movie is built up by a bunch of stupid subplots and the slasher part of the movie is never in focus
Audience Reviews for Terror at Tenkiller
½
(*): [img]http://images.rottentomatoes.com/images/user/icons/icon13.gif[/img] Pretty bad but as compared to [i]The Last Slumber Party[/i], it is just slightly better. But, it still sucks.
TTT C
Ever seen a movie where any sort of cinematic competence actually works [i]against[/i] it? Because that's the kind of movie that [i]Terror at Tenkiller[/i] is. It's a movie where the plot and situations are so dull that you hope that there's some gleaming car-wreck of a situation lurking deep within it--an unbelievable line of dialogue, a previously killed character strangely appearing again, an amazingly incompetent performace, a long scene that appears to be shot from behind a tree--just to keep you awake. But, no. [i]Terror at Tenkiller[/i]'s filmmakers have made sure that their film is, if nothing else, in focus, coherent, and stable. So all that's left is the plot, which is so shopworn and dull that you'll be lucky to be asleep by the ten-minute mark. There's a girl, and her boyfriend is an abusive jerk. So the girl and her best friend go to a cabin in the woods for summer vacation, getting jobs at the local diner. Then a psycho, whom at first seems to be a nice guy, but anyone who's ever seen a movie before can see through that, starts killing people and eventually stalks the two girls. Abusive boyfriend shows up. People die. The end. Now, I normally complain about lack of character development in horror films like this, but this one errs way too far on the side of banality. The conversations between the two girls go on for so long that you'd think you were watching an episode of "The View." It takes them forever to get up to the cabin, and when they do, it takes forever for anything to happen. As I said, the film is not horribly made, but it's done without any degree of style or wit. It's downbeat, but it's not really grimy, so the sleaze factor is low. The acting is okay, but nothing special. There's a little bit of gore, but certainly nothing any horror fan hasn't seen before. I wouldn't even call this a rightful slasher film, as there's really only two people in the cabin in danger, and even with the other occasional murders (usually to characters nobody gives a shit about anyway), it never comes close to the "ten killings" of the title. It's a stalker film, and one of the mosty painfully dull ones ever made. Why is this on DVD? And more importantly, why the hell did I buy it?
Paul Freitag
Terror at Tenkiller Quotes
There are no approved quotes yet for this movie.