Terror of the Living Dead (La orgía de los muertos) (The Hanging Woman)
(1975)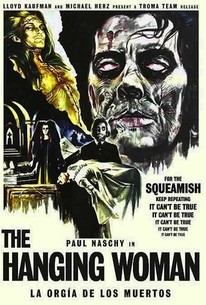 AUDIENCE SCORE
Critic Consensus: No consensus yet.
Movie Info
Stan Cooper learns that his reclusive but wealthy aunt has just died. He is summoned to a small and spooky town to attend the reading of the will. Before long, Cooper ascertains that auntie isn't the only one who's dead. In fact, the region is literally crawling with wild-eyed zombies. Filmed in 1972, Hanging Woman wasn't given a general release until 1985. It has also been issued as Return of the Zombies and Beyond the Living Dead.
Critic Reviews for Terror of the Living Dead (La orgía de los muertos) (The Hanging Woman)
There are no critic reviews yet for Terror of the Living Dead (La orgía de los muertos) (The Hanging Woman). Keep checking Rotten Tomatoes for updates!
Audience Reviews for Terror of the Living Dead (La orgía de los muertos) (The Hanging Woman)
½
I am not at all sure what the heck this movie was about - it might have been a murder mystery, it might have been about witchcraft, it might have been a mad scientist movie. All I do know is that this whole movie is a big old mess. The locations are neat. And Paul Naschy is barely in it - but does get to look through a peep hole while clawing the wall. Also he gets to grave rob and kiss some cadavers. I think there are some zombies, but get this, they are reanimated by placing a telekenetic pill in their brains. They are blind and deaf and controlled only by the thoughts of their master/creator. Don't worry, though, there is a hanging woman near the beginning.
R.John Xerxes
A quaint, innocent ghost story that reminded me most of a Twilight Zone episode. The philosophizing about love and mortality are charmingly naive and the cast, while not delivering a single memorable performance, portray their roles with such wide-eyed haminess that it's hard not to like this dated flick. "The Hanging Woman" is a classical ghost story incorporating lots of elements that have probably been in circulation since the Middle Ages. A couple of young people are in love, one dies, but they still manage to live happily ever after. There's no terror here as there's really no villain. The ghosts are romantics and never evince a drop of malice. Death simply isn't the end for them, and they go on "living," worrying about maintaining family traditions and making a good impression on guests. There's plenty of creepy atmosphere but if you're looking for gore, move on. Nobody in this flick so much as cuts himself shaving. The plot's paper thin, the writing is frequently giggle-inducing, and anyone with an IQ greater than her shoe size will have the story figured out 20 minutes into the movie. It's pure formula and the writers have made it all clear right up front. Still, "The Hanging Woman" is worth watching for sheer charm and it's mild-mannered enough for pre-teens, too. If you're in the mood for some light, good-natured and somewhat eerie ghostly goings-on, you could do far worse than this watchable bit of mid-50's Euro-fluff.
Brian Seitzman
Hanging Woman (aka "The Orgy of the Dead", "Terror of the Living Dead", and "Return of the Zombies") Starring: Stan Cooper, Dianik Zurakowska, Maria Pia Conte, Paul Naschy, and Gerard Tichy Director: John Davidson (or Jose Luis Moreno, depending on the source) When Serge Chekov (Cooper) arrives in a small mountain village to claim his inheritance, he stumbles upon the body who has seemingly comitted suicide. He soon learns she's a resident in the manor house he's inherited from, his recently deceased uncle. It soon becomes apparent that both the hanged woman and Chekov's uncle were actually murdered, and he attempts to find out why (with the assistance of pure-hearted Doris (Zurakowska)), he discovers bigger problems with his new house: The dead are getting out of their graves and killing the living. "Hanging Woman" is a funky little cross between a zombie movie and Sherlock Holmes-style detective movie with a sensibility that harkens back to classic Hammer films, such as "The Reptile" and "Plague of the Zombies" It's relatively straight forward, but the way it tosses both witchcraft and Victorian-style mad science into the bubbling plot cauldron (not to mention a necropheliac grave-digger, played with flair by Spanish horror film mainstay Paul Naschy) obscures the going-ons just enough to keep the viewer as much in the dark as the protagonists. The film could have benefitted from some judicious editing and script rewrites, but the acting is better than what is often seen in movies of this level--and this goes both for the actors on screen and the voice actors--and there are numerous genuinely tense moments, but the film is a little too slow-moving and flabby to be truly scary. Plus, there is a "shocking denoument" which is just plain stupid. There are far, far worse horror movies out there, and if you enjoyed the Hammer Horrors from the 50s and 60s, there is a lot about this movie you'll like. However, you'll be better off seeking out some of those old Hammer Horrors; they're better than "Hanging Woman", and this one isn't quite good enough to go out of your way for.
Steve Miller
Terror of the Living Dead (La orgía de los muertos) (The Hanging Woman) Quotes
There are no approved quotes yet for this movie.
Discussion Forum
Discuss Terror of the Living Dead (La orgía de los muertos) (The Hanging Woman) on our Movie forum!