Testament
(1983)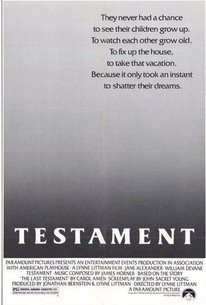 Movie Info
Un pequeño pueblo californiano es destruído por una bomba nuclear, dejando a los sobvrevivientes en una constante lucha por aceptar la realidad y seguir adelante. Jane Alexander, William Davene, Ross Harris.
Critic Reviews for Testament
Audience Reviews for Testament
½
What I learned from Testament is that the state of civil defense in the US is woefully unprepared for any kind of severe prolonged crisis. The department of Homeland security wants today's citizens to be the ones who take responsibility for their own safety. Testament shows the complete fallacy and ludicrousness of such a policy. How much canned food can someone possibly store in their basements? And when will the crisis occur and canned foods have shelf life too? Is it possible to store enough food for a prolonged crisis in today's modern world? After watching Testament, I am convinced that the department of homeland security's policies are unsound and there is nothing individuals can do to sustain their lives in today's world without organized governmental help. It's been proved again and again during Hurricane Katrina and other disasters, yet the government ignores today's realities. The nice part about this movie is that it shows society can breakdown to complete failure even if there is no violence by the population affected by the crisis.
Naomi Gonzalostein
Testament is open forgotten about in the rather small canon on films that depict nuclear disaster and for good reason..it's good but it pales in comparison to the edgier Threads in capturing likely actions after a nuclear blast.
John Ballantine
Super Reviewer
½
I think it was US who was most likely to launch a nuclear atack with the religious right in full power in 1983. Although I imagine Reagan wasn't quite as "close" to God as Bush was. Whereas Marxism, believes in historical determinism, it is materialistic in essence, so if all human life gets wiped out, there would be no chance for communism to develop. While Christian Right is metaphysical in nature. And, you know, "immortal soul" cannot be touched by radiation fallout. And even if every last human "leaves out this world", there is there a better world for believers. For that reason, there is a scene where the mother is angry with God. I believe she is angry with people who took the risks of destroying this world (in the hopes of eradicating the "evil empire"), knowing there is a better one out there. We are lucky that Gorbachev was such a pushover. Had it been somebody as cavalier in the power of USSR as Reagan was, we would totally see a nuclear cataclysm, with US striking first.
Serge C.
Testament Quotes
There are no approved quotes yet for this movie.
Discussion Forum
Discuss Testament on our Movie forum!