Tetsuo II: Body Hammer
(1997)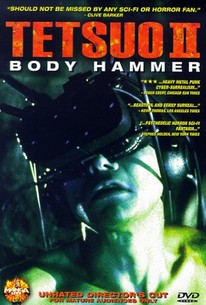 AUDIENCE SCORE
Critic Consensus: No consensus yet.
Movie Info
After a happily married Tokyoite's young son is kidnapped in a shopping mall by psycho, cyborg skinheads, he begins to mutate into a metallic cyber-gun when angered.
Critic Reviews for Tetsuo II: Body Hammer
All Critics (4) | Top Critics (1) | Fresh (3) | Rotten (1)
an almost conventional Oedipal storyline - but Tsukamoto's preoccupations with meta(l)morphosis, body horror and unchecked masculinity remain firmly in place, as does the writer/director's way with outrageous images and ideas.
Audience Reviews for Tetsuo II: Body Hammer
½
Companion piece to "Tetsuo: The Iron Man" which features more disturbing bodily mutations as a man is deliberately forced into a raging mechanical freak after a mysterious cult kidnap his son. This time round the film is more story driven and the furious editing and surrealism is more restrained. All filmed in colour this time too which'll please the gore hounds. Overall though it doesn't quite have the impact of the first film, but this is still a dark and unique film to experience.
Basically, I don't feel that this is a worthy sucessor to the original. While the original was confusing and bizarre in a good way, this is just dull and rather uninspired. Perhaps it's because the idea is no longer so shocking and original with the sequel? I don't know.
Shinya Tsukamoto is widely known for Tetsuo: The Ironman, but this film is really a hit or miss for science fiction fanatics.
The story is a mess. The film takes the time to actually try to build some plot, but the little explanations that they have really hurt. It isn't the fact that there isn't enough explanations, but more the fact that they try too hard for a story that, conceptually, doesn't need it. A bulk of this film is really abstract and it leaves a lot for the viewer to interpret. I can't believe I'm saying this, but maybe going fully abstract is good for a movie like this. Tsukamoto actually does a nice job at taking a manga and turning it into live action, without any cleanup or removal of any wackiness and I give points for that.
Visually, this low budget film is a let down. The original Testsuo is black and white and this one isn't. Many times, the scenes are just so dark that it is hard to make out details. This is where the black and white could have helped. The camera tends to be a bit shaky at times, but it is tolerable. On the positive side, the stop motion is great and it makes you wonder why there isn't more of it.
The sex and violence isn't all that bad and mature as people make it sound. The sex comes near the end, while the action is sort of spread throughout. The sound effects are a bit cheesy and while this may sound bad, it doesn't hurt this movie all that much.
The acting is OK at best. There isn't much to it and you will know what I mean if and when you see this.
In the end, I believe really really hardcore sci-fi fans will be the ones that enjoy this one.
Tetsuo II: Body Hammer Quotes
There are no approved quotes yet for this movie.