The Texas Chainsaw Massacre
(2003)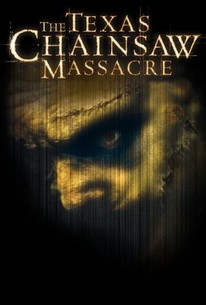 The Texas Chainsaw Massacre Photos
Movie Info
A tale of five 20-somethings whose free spirited road trip becomes a terrifying descent into madness. When they find themselves isolated in a rural Texas community, they fall into the clutches of a monstrous clan of Texas cannibals and find themselves being whittled away by the chainsaw-wielding Leather face.
News & Interviews for The Texas Chainsaw Massacre
Critic Reviews for The Texas Chainsaw Massacre
Audience Reviews for The Texas Chainsaw Massacre
½
This decent remake is not half as terrifying and shocking as the original masterpiece (how could it be?), while Jessica Biel pales in (an unfair) comparison with Marilyn Burns, whose absolute terror was evident there, but the movie does have its good moments.
Carlos Magalhães
Super Reviewer
½
Boring and tedious easily describe one of the poorer horror remakes in the 21st Century. With the lead characters doing nothing but swearing and screaming for the entire film, what's the point of trying to make the audience sympathize with them? Aside from R. Lee Ermey as the corrupted sheriff, the opening with the crime scene is the only aspect of the this feature that's worth watching.
Samuel Riley
Super Reviewer
Deviates from the original movies plot at times and is not as gritty as that film was, but it certainly has more gore and stupid people doing stupid things at times. R. Lee Ermey gives a creepy performance as the sheriff that beats anything the original had to offer, but everyone else is unremarkable. Jessica Biel is just there to look good. It does have some suspenseful moments that make is worthwhile, but ultimately this is more of the same. It's a respectable remake of an influential film, but not necessary.
Josh Lewis
Super Reviewer
The Texas Chainsaw Massacre Quotes
| | |
| --- | --- |
| Sheriff Hoyt: | I smell bullshit. |
| | |
| --- | --- |
| Erin Hardesty: | I didn't go to Mexico to watch you get s**t-faced for four days. |
| Kemper Hardesty: | That's what you do in Mexico! |
| | |
| --- | --- |
| Sheriff Hoyt: | Get her in there God damn it she's deader than a God damn doornail. |
| Sheriff Hoyt: | Lift her up and just kind of pull her over your way there. She ain't gonna bite you. She's deader than a goddamn doornail. |
| | |
| --- | --- |
| Erin Hardesty: | What's wrong with you fu**ing people? |
| Sheriff Hoyt: | (smiles) - Nothing wrong with us. |
| Sheriff Hoyt: | (smiles) Nothing wrong with us. |