Thale
(2013)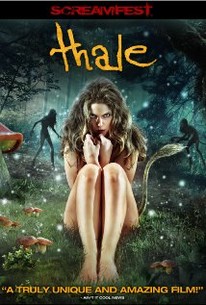 Movie Info
Two crime-scene cleaners discover a mythical, tailed female creature in a concealed cellar. She never utters a word, unable to tell her story, but the pieces of the puzzle soon come together: she's been held captive for decades for reasons soon to surface.
Audience Reviews for Thale
This is a good monster movie without ever relying on any of the old, tired monster movie cliches. It's far more observational about how, and this IS is a cliched theme, man is the real monster. That theme is a little tired by now, but I think it works in the context of this film and the story it is trying to tell. It is, after all, everything that Thale had to go through as a consequence of being separated from her family at such a young age and the experiments performed by uncaring scientists searching for an answer to Thale's powers. She goes through this even after she's 'saved' by one of the people that used to perform these experiments on her that just couldn't sit there and watch Thale being poked and prodded. He took her to this underground basement, where he proceeded to perform experiments on, though theoretically not as extreme as the ones she suffered while with the scientists. The film is, really, almost all exposition as recorded cassette tapes reveal the scientist's methods for dealing with Thale and how he's grown attached to her, even if he's doing things that he finds wrong. In many ways this film is about fatherhood and everything that entails. Because Thale and Elvis, much like the scientist and Thale, develop a relationship that is reminiscent of a father-daughter. At first I thought Elvis was going to make it weird by hitting on Thale, but all he wanted to do was protect her and keep her from, at first her parents, who weren't really dangerous, and afterwards the scientists that have been trying to trace Thale through her tail, which emits a kind of signal that's unique to her, sort of like her fingerprint. I did like that part of the film, it's certainly a little more thoughtful than your typical monster film. I think a problem with the film is, however, that it does have some identity issues. Doesn't know if it wants to be a fairy tale-esque story or a horror film. I think there was a way to combine both seamlessly, but this film didn't really achieve it. And the special effects, while minimal, are really atrocious. I think they could've gotten away with not showing the monsters, just show bits of it here and there. Let me see it running in the background, let me see it from a first-person view, but showing it up-close shows the very obvious budgetary limitations the film had. You'd still essentially have the same movie, just try to not show the monsters head-on. That way there's that kind of mystery as to what they looked like. I don't think it'd be cheap, since the film wasn't really about that, it was showing you the monsters inside of us. Still, this is a solid movie after all. Don't let the low-budget look throw you off, this is an interesting, and low-key, film. It definitely works well. Flaws here and there, some that couldn't have been avoided due to the budget, but overall this is an enjoyable movie.
Jesse Ortega
Super Reviewer
Interesting idea that sadly runs out of steam too quickly.
Marcus Woolcott
Super Reviewer
[img]http://images.rottentomatoes.com/images/user/icons/icon14.gif[/img]
Directors Cat
Super Reviewer
Thale Quotes
There are no approved quotes yet for this movie.