That Funny Feeling
(1965)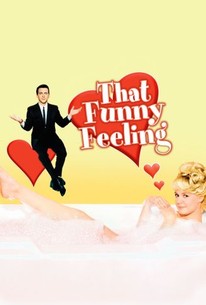 AUDIENCE SCORE
Critic Consensus: No consensus yet.
That Funny Feeling Videos
That Funny Feeling Photos
Movie Info
A young woman working as a maid falls in love with a handsome publisher, not realizing that he is also one of her employers. This romantic comedy charts the many confusions that result before the lovers learn the truth, especially when the maid pretends the publisher's apartment is her own.
Rating:
NR
Genre:
, ,
Directed By:
Written By:
In Theaters:
On DVD:
Runtime:
Studio:
Universal
Critic Reviews for That Funny Feeling
There are no critic reviews yet for That Funny Feeling. Keep checking Rotten Tomatoes for updates!
Audience Reviews for That Funny Feeling
½
Wow, what a look at a decade SO different from ours! A romantic comedy primarily for Bobby Darin fans. Not heard of Darin? My, that is your loss. Bobby Darin was a sixties vocal star, famous for his hit : Mack the Knife. Bobby Darin wrote and sung the theme song for this one and starred in it too! Multi talented in every way, Darin terribly missed. Plot: Joan Howell intends to be an actress, but for now she's working as a maid. Three different times, she accidentally bumps into Tom Milford, a successful publishing executive, who then asks her for a date. Ashamed of her own modest home, Joan invites him to the lavish apartment of one of her clients, pretending it is hers. What she doesn't know, because she and her employer have never met, is that the apartment is Tom's. He is shocked to find himself being welcomed to his own place. To see how far Joan is prepared to go, Tom moves in with his pal Harvey and goes along with it. As soon as Joan becomes aware of the truth, however, she gets even by throwing a party with girls pretending to be prostitutes, whereupon the party is promptly raided by the cops. [img]http://upload.wikimedia.org/wikipedia/commons/thumb/a/a7/That_Funny_Feeling_%281965%29_trailer_1.jpg/220px-That_Funny_Feeling_%281965%29_trailer_1.jpg[/img] That Funny Feeling is a 1965 American romantic comedy film starring Sandra Dee, Bobby Darin, and Donald O'Connor. This was the third film pairing of Dee and then-husband Darin, following 1961's Come September and 1962's If a Man Answers. [img]https://encrypted-tbn2.gstatic.com/images?q=tbn:ANd9GcR5eGqSBfXZ00MjSSm61cXNZlTDoJQ3kRgfvPVGax2GF-bFeQGSHA[/img] The late and great, Bobby Darin SEE the entire film here: http://www.youtube.com/watch?v=yflytZS3LC0 [img]http://lh5.ggpht.com/_-J2wYVt0r0g/TXsy3N69qNI/AAAAAAAACqI/dzvXdMTs-2A/clip_image014_thumb%5B7%5D.png?imgmax=800[/img] REVIEWS by RT unpaid: 60% Thanks to Netflix I found this adorable movie. Favorite part.. Playing 10 questions & all her answers pointing to the wrong conclusion of what ger "jo... [img]https://encrypted-tbn1.gstatic.com/images?q=tbn:ANd9GcRpaGGqjHikN_LVnJ-6PIoayneUSSDHwnjrNd978oZe-18KUM8a0A[/img] NOTES: 1 This was the third film pairing of Dee and then-husband Darin, following 1961's Come September and 1962's If a Man Answers. 2 The second film that O'Connor and Kathleen Freeman (who played a lady in a telephone booth) made together, the first being "Singin' in the Rain". [img]http://www.posterpalace.com/images/lz/thatfunnyfeelingDMlc8.jpg[/img] CAST Sandra Dee as Joan Howell Bobby Darin as Tom Milford Donald O'Connor as Harvey Granson Nita Talbot as Audrey Larry Storch as Luther Leo G. Carroll as Mr. O'Shee, Pawnbroker James Westerfield as Office Brokaw Reta Shaw as woman at phone booth [img]http://i.ebayimg.com/t/Sandra-Dee-Bobby-Darin-VINTAGE-Photo-That-Funny-Feeling-/00/s/ODQ5WDEwOTk=/$(KGrHqV,!qME88f7,I,+BPhiImRVQw~~60_35.JPG[/img] Bobby Darin, right Directed by Richard Thorpe Produced by Harry Keller Screenplay by David R. Schwartz Story by Norman Barasch Carroll Moore Music by Bobby Darin Cinematography Clifford Stine Editing by Gene Milford Distributed by Universal Pictures Release date(s) August 25, 1965 (United States) Running time 93 mins. Box office $1,000,000 [img]https://encrypted-tbn3.gstatic.com/images?q=tbn:ANd9GcQo0XFkwemPJNX_B3PoypkH4-EBhbXbiPZe4DG1wPgBRrgyRRM_hg[/img]
monsieur rick
Joan Howell: I'd love to visit your apartment. Tom Milford: My apartment? Well, why mine? Joan Howell: The answer should be quite obvious, shouldn't it? Tom Milford: The fact of the matter is, mine is quite disorganized. I've been having maid trouble, too. Joan Howell: Well, I'll tell you what. You take me to your apartment and I'll show you what I can do with a vacuum cleaner. A cute if not at times somewhat ridiculous case of mistaken identity (kind of).
Jennifer P
That Funny Feeling Quotes
There are no approved quotes yet for this movie.