That Little Monster
(1994)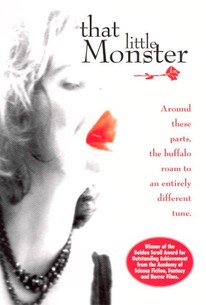 AUDIENCE SCORE
Critic Consensus: No consensus yet.
That Little Monster Photos
Movie Info
Paul Bunnell's horror film That Little Monster stars Melissa Baum as Jamie, a student studying abroad who begins the film interviewing for a nanny position. She gets the job, but soon discovers that strange things are occurring with the child, the family, and their house. She soon begins to fear for her life. The film was shot in a way that pays tribute to the Universal horror films of the '30s.
Rating:
NR
Genre:
, ,
Directed By:
Written By:
In Theaters:
On DVD:
Runtime:
Audience Reviews for That Little Monster
I just want to tell you all how thrilled I am with the DVD release of THAT LITTLE MONSTER. Elite has done another first-rate job on a hard-to-find independent horror-comedy (which up until now has only been available through Sinister Cinema on VHS). Elite's DVD release of THAT LITTLE MONSTER is far superior to the VHS version. Included for the first time is the original "Overture" theme music which was scored for the world premiere in 1994 and not heard since; a sharp new digital transfer from a fine grain print which really enhances the black & white photography; and clips of Bob Hope from his 1934 debut short film GOING SPANISH, inserted from a recently discovered 16mm print (something I wasn't able to do for the original release). As for Supplemental goodies, Elite includes an exclusive unedited Audio Commentary by Carl Mastromarino and myself -- a ten-minute interview clip from a Los Angeles cable show -- and THE VISITANT, a short film I shot on super 8mm for a cost of $500 when I was 17 years old. This film played on HBO in 1982 as a filler and has always been well received (considering its low budget) and remains a personal favorite of mine. THAT LITTLE MONSTER features special appearances by sci-fi professor emeritus Forrest J Ackerman, PHANTASM star Reggie Bannister, and a very special surprise guest from Hollywood's golden era. And I'm delighted to have been able to personally supervise this special edition of THAT LITTLE MONSTER, which is why I gave this product an Amazon.com "five-star" rating and great big "thumbs up" to Elite. What more can I say?! I think my friend Angus Scrimm (PHANTASM's "Tall Man") said it best... "If you're having a horror film party some Saturday night, surprise your guests by screening THAT LITTLE MONSTER after the feature attraction. It's a devilish, strange, disquieting little chiller that will cap your evening with some most delicious shudders. Some of its images may stay on in your mind to become part of your film vocabulary." Paul Bunnell
Johnny X
[center][color=Blue][u][b][size=6]The Visitant (Short) [img]http://images.rottentomatoes.com/images/user/smilies/fresh.gif[/img][/size][/b][/u][size=6][color=Lime][size=4] 8 out of 10![/size][/color] [/size][/color] [size=4][color=Blue][b]Synopsis[/b][/color][/size] A grave side visit turns out to be the beginning of a never-ending nightmare for Jason Bunnell. Mysterious encounters in a deserted cemetery return to haunt him forever. [size=4][color=Blue][b]Review[/b][/color][/size] This short was on the weekly [b][color=Cyan]'Revenge of the Midnight Movies'[/color][/b] on The horror Channel's website. Like I said in a earlier review every Friday night they broadcast some kind of horror movie at midnight off their site. They showed this before the real movie [color=Cyan][b]'That Little Monster'[/b][/color] which is by the same director Paul Bunnell. From seeing this and [color=Cyan][b]'That Little Monster[/b][/color]' Paul Bunnell has made a very big impression on me. For a 22 minute short movie a lot of stuff happens in it. It's a very weird short film, and there are some twists to the story. Which is one reason the synopsis is so vague, that and I suck at writing synopsis's without spoiling stuff and it was the best I could find. While it is a horror short film, it not only has the creepiness that it should but also has a gripping story to it. Which is a lot of the twist to how the son died, so you'll just have to watch it somehow to figure it out. I haven't really seen any short films at all, but I would think this is one of the better ones out there. I don't know how to tell you to see it, I think it's probably with [b][color=Cyan]'That Little Monster'[/color][/b] DVD. It's definitely worth a viewing, for its uniqueness. So do whatever you have to to find this gem. [color=Blue][u][b][size=6]That Little Monster[/size][/b][/u][/color] [size=4][color=Blue][b]Synopsis[/b][/color][/size] This award-winning film puts a bizarre yet comical twist on 1950's television and combines it with shocking gore. [color=Cyan][b]'That Little Monster'[/b][/color] is the tale of young Jaime, an exchange student who unknowingly gets caught up in the dark and horrific secrets of a house-come-to-life when she accepts a job babysitting a strange infant named Wolper Willock. [color=Blue][b][size=4]Review[/size][/b][/color] I really didn't know what to expect at all from this movie, I had pretty low expectations. I guess mainly because the last few movies The Horror Channel played on their webcasts weren't the best of movies. This week they definitely made up for their bad movies. I know they can't get the rights to play only great movies, which is why I must support them until they can get their channel officially launched on Satellite/Cable networks. Paul Bunnell is a very interesting director, while he makes movies very gradually. [color=Cyan][b]'That Little Monster'[/b][/color] was his last movie which was in 1994, his next movie is scheduled for this year actually, and looks really interesting. [color=Cyan][b]'That Little Monster'[/b][/color] was filmed in black and white and was made to look like a classic horror film. With all the unique shots Bunnell delivers in this movie, it shows that he has what it takes to be a director. The direction style is very creative in how he moves the camera. It mixes horror and comedy perfectly, there are some great comedic moments. A few of them being subtitles popping up on the screen like a silent film does, so pays alittle homage there as well. There's some great scares I didn't expect to find. We even get some gory scenes one in which a toy shoots a dart into someone's leg. A sweet twist ending that I did not anticipate at all. All of this happens and the movie is only about an hour long. Now why can't some of today's horror movies do this in a hour and a half to two hours? I'm officially interested in seeing the other works of Paul Bunnell, if I can ever figure out how to find them. This is the only movie listed on Netflix by him. I highly recommend you seeing this movie, it's a movie that I don't think many people realize is out there. So go see it and get others to see it. It's low-budget movies like these that the people need to experience. Screw the big high-blockbuster movies, I would rather see a indie low-budget film any day than half the stuff that comes out in theaters now. [/center]
Daniel Oakley
That Little Monster Quotes
There are no approved quotes yet for this movie.
Discussion Forum
Discuss That Little Monster on our Movie forum!