That's Dancing!
(1985)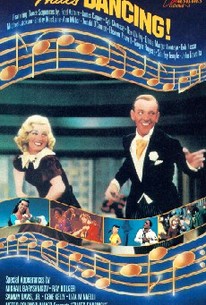 AUDIENCE SCORE
Critic Consensus: No consensus yet.
Movie Info
Nine years after his last compilation of musical-movie highlights (That's Entertainment, Part II), producer Jack Haley Jr. offers another enjoyable nostalgia-fest, That's Dancing. Unlike his earlier films, which were confined to the output of MGM, That's Dancing offers vignettes from the best of Warner Bros. (the Busby Berkeley extravaganzas, On Your Toes), RKO (Fred Astaire and Ginger Rogers), 20th Century-Fox (The Nicholas Brothers, Carmen Miranda), Universal (1969's Sweet Charity) and United Artists (the "Cool" number from West Side Story). There are also highlights from the top musicals of the 1970s and 1980s, which with such rare exceptions as Saturday Night Fever (1977) can't hold a candle to Hollywood's vintage songfests. Host/narrators Gene Kelly, Sammy Davis Jr., Mikhail Baryshnikov, Liza Minnelli and Ray Bolger help put the clips in their historical perspective, though all five stars seem tired and unenthusiastic. The real money scene in That's Dancing is Ray Bolger's "wind" dance, which was cut from the final release print of The Wizard of Oz (1939). In answer to the excellent audience response to this vintage sequence, Haley's next compilation, That's Entertainment III (1995), incorporated several such "lost" musical gems from the MGM vaults.
Rating:
G
Genre:
, , ,
Directed By:
In Theaters:
On DVD:
Runtime:
Studio:
MGM Home Entertainment
Critic Reviews for That's Dancing!
All Critics (3) | Fresh (3) | Rotten (0) | DVD (1)
I'd rather just watch a musical in it's entirety than a greatest clips presentation, but for what it is, it's entertaining enough. At least it made me write down a list of musicals to watch.
Bends over backwards to celebrate the perception that the box office success of Fame and Flashdance heralded the rebirth of the form.

A fine film about the beat that put bodies in motion from tap to ballroom to disco to break dancing.

Spirituality and Practice
Audience Reviews for That's Dancing!
A spinoff of the That's Entertainment movies, That's Dancing is an entertaining and informative documentary that looks into some of the best dancing sequences ever created in the musical genre. Gene Kelly describes early musical dancing and the works of Busby Berkeley, Sammy Davis Jr. talks about early acclaimed musical choreographers, such as Fred Astaire/Ginger Rogers, Bojangles Robinson, and the Nicholas Brothers, plus shows a very entertaining dance sequence cut from The Wizard of Oz featuring the Ray Bolger Scarecrow, Mikhali Baryshnikov describes the impact of ballet dancers on film, "Scarecrow" Ray Bolger describes the glory days of MGM studios and it's two most successful dancing stars; Fred Astaire and Gene Kelly, and Liza Minnelli talks about film musicals adapted from acclaimed Broadway hits. Gene Kelly also shows up at the end talking about dancing and its impact today (or in the case in its original release, 1985), showing musical hits that brought the genre back from near-extinction, including Saturday Night Fever, Flashdance, and Fame. It's not a perfect documentary, as some of the celebrity hosts just didn't seem to be in the spirit of the production, especially Baryshnikov, but what's great about That's Dancing is that no matter what musicals you have actually seen prior to watching this, I guarantee that you'll still have an enjoyable experience. It'll likely give some more respect to the musical genre and how talented these choreographers actually are. It also makes me want to watch more of the old Hollywood musicals, particularly those of Busby Berkeley, who had some pretty surreal cinematography for 1930's cinema. I'm glad I found this documentary.
Jacob Martin
It's enjoyable viewing of well-accomplished and famous dances/dancers, however those expecting to catch the full scenes of the VERY best 20th Century dance numbers in film will be disappointed. Gene Kelly splashin' & singin' in the rain? Nope. Donald O'Connor dancin' up 'n down walls to make 'em laugh? Sorry. Fred Astaire's "Royal Wedding" ceiling dance? Nuh-uh. Sammy Davis, Jr. tappin' away? Only for 20 seconds when he's six years old. Mikhail Baryshnikov, however, is granted twenty full minutes to drag the viewer through a discussion of mostly-obscure ballet artists who all but never worked in cinema. And the film closes with a 1980ish eye-to-the-future extensively glaring at "Saturday Night Fever," "Fame," "Flashdance" and Michael Jackson - while ignoring Bob Fosse's monumental "All That Jazz" altogether. Two reasons for selections this spotty: First, Gene Kelly as producer made all the final calls on content, so the film is more a reflection of what he personally viewed as pivotal and/or anthropologically significant - rather than a square-on look at the best of dance. Second, licensing issues across studios skew the film's content. The majority of the look-sees are well less than a minute; that's a reflection of the director's inability to control his desire to cram an entire Century of dance into two hours of film (His original cut was nearly three hours). The better, more-fully-treated content includes several Busby Berkeley kaleidoscopic creations, a full study/treatment of Fred Astaire (solo & with Ginger), some lesser-seen though strong hoofers (eg, Eleanor Powell, Bill 'Bojangles' Robinson, Nicholas Bros.) and Ray Bolger in a dancing scarecrow number cut from "Oz." RECOMMENDATION: The viewer will find a lot of interesting, talented dance here - but not all of the best of it.
TonyPolito Polito
That's Dancing! Quotes
There are no approved quotes yet for this movie.
Discussion Forum
Discuss That's Dancing! on our Movie forum!