That's the Way I Like It
(1999)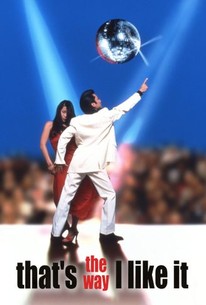 Movie Info
Glen Goei made his directorial debut with this Singaporean musical comedy in Singlish and Hokkien dialogue. In 1977, laidback Hock (Adrian Pang), always on the brink of getting fired from his supermarket job, hopes to buy a Triumph motorcycle. He lives with his parents, sister Mui (Pam Oci), and brother (Caleb Goh). After seeing a movie titled Forever Fever with a John Travolta look-alike (Dominic Tace), Hock gets inspired. To raise money for the Triumph, Hock takes dance lessons in order to enter a disco competition with a cash prize. Mei (Medaline Tan), who secretly loves Hock, goes with him to his lessons. Hock falls hard for another dance entrant, Julie (Anna Belle Francis), which does not please her boyfriend, Richard (Pierre Png). Some anachronisms are evident in the use of modern Singapore for period location scenes.
Critic Reviews for That's the Way I Like It
Audience Reviews for That's the Way I Like It
½
A rather predictable plot but still some endearing characters. I was surprised that the movie is 99% in English with just a few Chinese terms now and then, though I'm glad the subtitles were still there because it's not very good English :). Overall a cute romantic comedy that is entertaining for it's look back at the 70s disco scene in Singapore.
Zachary Long
½
If you like bad disco karaoke, this is the movie for you! A PG-13 Saturday Night Fever ripoff with a Singapore flair. Hock, a big Bruce Lee fan, is forced to sit through the latest movie- "Fever" and is inspired. He decides to enter a dance contest to raise money for a new motorbike, even though he can't dance. He gets encouragement from his friend Mei and from the Tony Manero character who talks to him from the movie playing in the theater. Yes, that's right, a bad John Travolta impersonator comes out of the screen to give him advice! Then add to that karaoke-sounding Bee Gees covers! Tight pants! Mix in a bit of squabbling family and troubled brother and then add the two women. Sprinkle with cheesy dialogue and finish it off with a nice pink fairy tale bow! Put in oven and burn to a crisp.
mel j
That's the Way I Like It Quotes
There are no approved quotes yet for this movie.
Discussion Forum
Discuss That's the Way I Like It on our Movie forum!