The Thaw
(2009)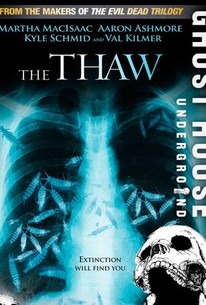 AUDIENCE SCORE
Critic Consensus: No consensus yet.
Movie Info
A team of ecology students led by a famous environmental advocate discovers that some secrets are better left buried when they unearth the perfectly preserved remains of a frozen wooly mammoth and discover that an ancient parasite has been incubating inside the beast for centuries. Dr. David Krupien (Val Kilmer) is examining a melting ice cap in the Arctic when he unearths a prehistoric specimen the likes of which researchers have never seen. Elated by the possibilities of such a remarkable find, Dr. Krupien hastily summons four of his brightest students to the base to take part in the excavation. But something isn't right; soon after extracting the massive prehistoric creature from the ice, the students are besieged by a swarm of unidentified insects that burrow deep into the flesh, and lay eggs in their host to reproduce. With each new infection, the prospect of containing the parasitic bane decreases. Now, stranded in the Arctic with their numbers quickly dwindling, the desperate students realize that their only hope of preventing the parasite from reaching the general population is to quarantine the base, even if it costs them their lives. ~ Jason Buchanan, Rovi
Critic Reviews for The Thaw
Audience Reviews for The Thaw
First movie I've seen since Tuesday. For some reason it feels like it's been more than a week since I've seen a movie. That might be because I've watched a movie a day, with some exceptions at times, for what seems to be years now. I know that it started to pick up once I finally subscribed to Netflix. Netflix really is one of my favorite things, even though I watched this on Amazon Prime. Anyway, the point of it all is the fact that, for some reason, after several days of not watching a film, the first one I pick after a forced break is this one. But, honestly, this was just what I was in the mood for. Something that didn't really require too much brainpower to get through. Something that I could laugh at more than I could laugh with. Though, if I'm being honest, this wasn't as bad of a movie as I would have expected when I came to my decision. It's not like I'm gonna say it was good, because it wasn't, in fact, I just had this feeling of deja vu when watching this. It's not that I watched this, I would like to think I'd remember if I watched this, but it feels like it's a movie that's constructed from various other flicks that came before it. There's this one movie, that I believe was German, that had some similarities to this, but I can't quite remember the name. But, let's be honest here, there's nothing unique about this whatsoever. And it's not like the movie really even pretends to be anything more than it is, which can be seen as a positive or a negative depending upon which persons views this. There's some really bad acting here by the actress who played Ling, but thankfully her character isn't present that much. When she is there, though, she was just awful. It's not like everyone else is great to begin with, but they're decent at best, better than, again, one would have expected from a low-budget horror film. I did like the eco-terrorism angle the film used. I don't wanna say I haven't seen it before, because I'm sure I have, but it's still interesting to see in this type of setting and how some people would go so far as to purposely release a virus to the masses, maybe even killing thousands, in order for them to take global warming seriously and for them to actually do something about it. It's obviously an extreme example, but it was still intriguing. Just wish they would have done something with that concept much earlier instead of just leaving it as a reveal at the end. But it is what it is and we have to take the film as it is. The film isn't as gruesome as its concept might suggest, these insects crawl their way inside you and plant their eggs, that shit's got the potential to be grossly awesome. But, and this is obviously due to the budget, they can't really go all out on the gruesomeness as they could have. Though I can't exactly blame them for that one. There's some decent gore, but that's about it. All in all, however, this isn't that bad of a movie. It's slightly below average, no more, no less. It all depends on the mindset you come in with, though, so it's probable that, on a shittier day personally, I would have hated this movie. As it stands, it's just below average and I can't exactly recommend it, though I didn't feel like I wasted my time with this.
Jesse Ortega
Super Reviewer
½
One of the great movies from Ghost House Underground Series. This one is as good as they get. A research team in the Artic discover a Woolly Mammoth, but what they don't know is that they discovered much more, a prehistoric parasite that feeds on its victims. Excellent special effects and some terror sights but not in the class of a Halloween film, but still a thriller and horror, 4 1/2 stars
Bruce Bruce
Super Reviewer
½
For some reason, my boyfriend and I watched this whole movie and got somewhat into it. It was watchable and you wanted to know what was going to happen next to the students. Not the best, but we found humor in it and it was a decent tv movie about creepy crawling bugs.
The Thaw Quotes
There are no approved quotes yet for this movie.