The 50 Worst Movies Ever Made
(2004)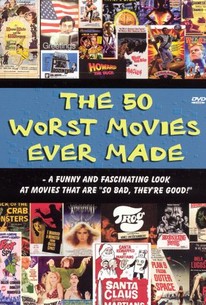 AUDIENCE SCORE
Critic Consensus: No consensus yet.
Movie Info
The 50 Worst Movies Ever Made is a documentary that "celebrates" the kind of cinematic schlock that helped keep Mystery Science Theater 3000 on the air for many seasons. The film consists primarily of clips from some of the films widely considered to be the worst of the worst.
Rating:
NR
Genre:
, ,
In Theaters:
On DVD:
Runtime:
Critic Reviews for The 50 Worst Movies Ever Made
There are no critic reviews yet for The 50 Worst Movies Ever Made. Keep checking Rotten Tomatoes for updates!
Audience Reviews for The 50 Worst Movies Ever Made
With a title like "The 50 Worst Movies Ever Made" you expect a documentary to be elaborate and detailed to a certain extent. This is however not the case for the one hour run-time is not enough time to explore why these 50 movies are the worst ever made. Whether or not you agree if the films presented are the 50 worst ever made debatable, but how the opinion is presented is more important. The opinion express here is very poorly executed. Clearly the person behind this has not seen a majority of the films he talks about. The narrator mostly shows a trailer and says a simple remark of why it's bad. These remarks don't offer any sort of strong reasoning why the certain movie is one of the worst ever made. A majority of the time the narrator tells us interesting facts, but are entirely unrelated to the film quality itself. The major offense being that this is an hour long. A minute is not long enough to convince the viewer without any example, a clip of some kind, or even noticeable bad production values why it's among the worst ever made. It's a lazy documentary that uses the same animation and appears to be something someone would post on YouTube. It's a lazy documentary that does little to convince let-alone provide a strong defense for the opinion presented here. Now let talk about the films that made the list. "Plan 9 from Outer Space" made the list, but it contains a 66% rating here on RT and it has an audience that enjoys it. "Plan 9" is a bad entry because it makes viewer laughs and in my definition any film that can entertain whether intentional or not can not be one of the worst. Two entries include "Troll" and "Troll 2" which once again are debatable. I disagree with these entries, but the person presenting his opinion is unoriginal. What the narrator says about "Troll" and "Troll 2" are pretty much the same things everyone has already said (does no one complain about the ending besides me?). Picking on well known poorly receive films are easy when many have done it (including me), but it's extremely lazy when you're repeating what so many have said about it word for word. As for the number one "Worst Film Ever Made" according to this documentary is "The Incredibly Strange Creatures Who Stopped Living and Became Mixed-Up Zombies!!?". I have seen the number one entry and it's very awful. There's so many things one could say about that mess of a movie. Apparently the documentary can't, the narrator just states the obvious in what's in the trailer and pokes fun of the title. It's a terrible opinion base documentary when the viewer has more to say about the number one worst than the actual documentary. The 50 Worst Movies Ever Made is a terrible opinion based documentary that lacks focus let-alone elaborate long enough to convince why a certain film is one of the worst. "The 50 Worst Movies Ever Made" is one of the worst and poorly assemble documentary ever made.
Caesar Mendez
Super Reviewer
We all know there are some really terrible movies, that should have never been made. This documentary attempts to highlight these films and tell you just what was so bad about them. I liked how they told you unknown information about these films, that made them seem even more ridiculous. What I didn't like was how narrow minded the documentary is. Released in 2004, it mainly focus on Science Fiction and Horror films made between 1940 and 1980. While ignoring all other genres as well as the last 30 yrs of film, the documentary also rushes through, ending in just over an hour. Seeing all those old films and learning about how crazy some of the things they did was really interested, but it was simply rushed and narrow minded. Maybe in the future someone will expand the search criteria and give a more accurate picture of what truly bad is.
Todd Smith
Super Reviewer
It's a pretty horrible documentary. It seems like it was half assed; with the same animations and sounds after all 50 movies. Also, I wish they would have picked movies that had bigger budgets and that were trying to be good.
Melvin White
Super Reviewer
The 50 Worst Movies Ever Made Quotes
There are no approved quotes yet for this movie.