The Baby
(1973)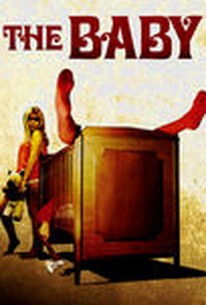 Movie Info
An insane, alcoholic woman redirects her hatred for the husband who abandoned her onto their teenage son, forcing him to dress and act like an infant. A social worker discovers this atrocity and attempts to rescue the boy, but the mother reacts violently in this horrific drama.
Critic Reviews for The Baby
Audience Reviews for The Baby
very creepy cult fave it's a treat 2c ruth roman (strangers on a train) go all evil like bette davis in 'hush hush sweet charlotte'
Greg Wood
He's a pretty special baby. A social worker who recently lost her husband requests a special case, the Wadsworth Family. The Wadsworth Family consists of a mother and her two daughters raising a full grown man as a baby. The baby's name is, Baby. The social worker believes the baby can grow and evolve but the family is unusually reluctant to let her test her theories. It is obvious the family is possessive and slightly crazy, but how far will that crazy extend and will the social worker's life be at risk? "What's his real name?" "Just baby." Ted Post, director of Good Guys Wear Black, Magnum Force, Beneath the Planet of the Apes, Peyton Place, Stagecoach, and Gunsmoke, delivers The Baby. The storyline for this picture is very unique and well done. I found the content uniquely done and a nice delivery of an original plot, a little like Spider Baby. The acting was also better than I anticipated and the cast includes Anjanette Comer, Ruth Roman, Mariana Hill, and Michael Pataki. "He's your brother, not an animal." I found this on Netflix and thought it would be an interesting 1970s grindhouse thriller...I was 100% right. I thought this film was very clever and original. It was weird and eerie but also unique. This is a must see for fans of the horror classics and/or cult films. "Wifey loves her big baby." Grade: B+
Kevin Robbins
½
What was that?! Dumb early 70's horror film that is only worth seeing for Ruth Roman's performance.
The Baby Quotes
There are no approved quotes yet for this movie.
Discussion Forum
Discuss The Baby on our Movie forum!