The Best Two Years
(2004)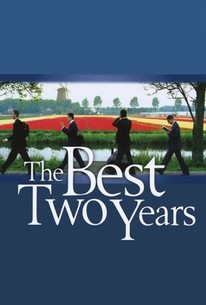 The Best Two Years Photos
Movie Info
K.C. Clyde, Kirby Heybourne and Cameron Hopkin star in this comedy that follows two sets of Mormon missionaries from America and their efforts in the Dutch city of Haarlem. Directed by Scott S. Anderson.
Rating:
PG (for thematic elements)
Genre:
Directed By:
Written By:
In Theaters:
On DVD:
Box Office:
$221,039.00
Runtime:
Studio:
Critic Reviews for The Best Two Years
Audience Reviews for The Best Two Years
½
One of the best LDS movies ever! Missions can be a wounderful experiance, and they can also be funny!
John Thomas
An interesting look at the lives of Mormon Missionaries. Manages to convey the experience without being preachy.
Anthony Valletta
Super Reviewer
½
Overall, I thought it was okay. It was worth the cost of the DVD. [B] However, if you want reality, this movie does NOT give you it - I suggest Errand of Angels instead[/B] (and I rated that movie as a 9). This movie has your typical Mormon cast of characters such as Scott Christopher, so if you are LDS and like movies with a silly Mormon feel, you will LOVE this, and it held my kids' interest throughout. It will remind you a bit of Singles Ward, which is another movie I would rate at a 7. If you are Mormon, this movie is certainly worth watching. If you are a non-Mormon, you may still like this, but won't understand all the nuances. Errand of Angels is more serious, and frankly, more "preachy" because it gets into the head of a Sister Missionary. It has some scenes that are just stupid. For example, Mormon missionaries do not climb over each other to get their mail. That scene made sense for the stage, but was too sappy for me in a movie. Overall, the acting was okay, but the lead in Errand of Angels simply blew these actors away. There was also way too much focus on the Elders' girlfriends back home, and not enough focus on what they actually do day to day. Strengths: A decent - but not excellent -window into the lives of male Mormon missionaries. The acting, especially that of Elder Calhoun, was good. The camera work was okay. They did go to the trouble of shooting the movie in Holland, which was cool. It was clean, and it was very watchable. Weaknesses: It was goofy. [B]Mormon missionaries do not post pictures of girls behind the pictures of church leaders, just so they can flip them around if leadership shows up at their living quarters. They are far more refined than that.[/B] A missionary would never rope another missionary. What really bugged me was that virtually no Dutch was heard in this movie - what a wasted opportunity! And the movie was soooo predictable, so the baptism will shock nobody. Too much of the movie was shot in the apartment. All in the Family got away with this, but when you are shooting in Holland, SHOW THE AUDIENCE HOLLAND! Moreover, the proper way to say Books of Mormon was not clever, just annoying. The film could have showed the missionaries LIMITED BUDGETS, the way some of them are disowned by the families for going on a mission, the way many Europeans hate Mormon missionaries because they are simply American males, etc. Also, darn few investigators are taught in missionary apartments for obvious reasons. Because this movie was not meant to be serious, and the budget was limited, I will give it some slack. And it served a nice purpose. If a child is thinking about going on a mission, this movie would be a 9 for them. Errand of Angels would be a 10.
Greg Smith
The Best Two Years Quotes
There are no approved quotes yet for this movie.