The Blue Man (Eternal Evil)
(1985)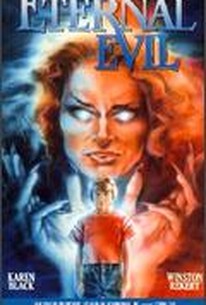 AUDIENCE SCORE
Critic Consensus: No consensus yet.
Movie Info
A dissatisfied Montreal director of TV commercials is taught to astrally project himself by a mysterious woman. But soon he finds that he does it against his will when he sleeps, and while he does it, he commits savage acts against those in his life.
Rating:
R
Genre:
,
Directed By:
Critic Reviews for The Blue Man (Eternal Evil)
There are no critic reviews yet for The Blue Man (Eternal Evil). Keep checking Rotten Tomatoes for updates!
Audience Reviews for The Blue Man (Eternal Evil)
Slow paced film with a good premise that isn't executed well enough. The characters are alright, but they're not good enough to really care much about. There are some creepy moments, but the rest of the film can be boring and stale. The ending is satisfactory, but otherwise, the film is a miss.
Wes Shad
Cheezy, so-bad-it's-good fluff starring Karen Black in her prime. Even though it was released in the mid-80s, it's got a distinctly late 70s feel to it. There are plot holes big enough to drive an astrally-projected truck through (hey, why'd the dog attack him, anyhow?), hilariously silly POV shots, and very little by way of internal consistency. One to watch with some wisecracking friends and a few beers. And when the wiggity-wiggity-wiggity background music starts, prepare yourself for... well... wiggity-wiggity-wiggity noises and maybe somebody having a heart attack. Or something. Actually, there's a pretty good idea for a horror film buried somewhere deep in all this schlock. Enjoy the schlock.
Brian Seitzman
This Came from the Mill creek Nightmare Worlds 50 Pack. Brother if this movie gives you nightmares, you might want to run down to the State Hospital and commit yourself. I was watching this one and only thing it did for me was put me to sleep. might expect to see this one on that 2am-4am TV Station with rabbit ears. Do all you can to bypass this one.
Bruce Bruce
Super Reviewer