The Chinese Botanist's Daughters (Les Filles du botaniste)
(2006)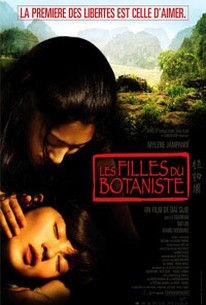 AUDIENCE SCORE
Critic Consensus: No consensus yet.
The Chinese Botanist's Daughters (Les Filles du botaniste) Photos
Movie Info
Dai Sijie's dramatic story of star-crossed lesbian love, The Chinese Botanist's Daughters stars Mylene Jampanoi as Li Min, an orphan since the age of three who gets a job as assistant to a botanist. While on the island where they do their research, Li Min falls in love with the botanist's daughter. The two secretly engage in a sexually charged relationship that blossoms into true love. When the scientist's son arrives home after some time in the military, the commanding old man forces the son to marry Li Min. When the son discovers that his new bride has had sex before their wedding night, tragedy ensues. ~ Perry Seibert, Rovi
Rating:
NR
Genre:
Directed By:
Written By:
In Theaters:
Runtime:
Studio:
Critic Reviews for The Chinese Botanist's Daughters (Les Filles du botaniste)
There are no critic reviews yet for The Chinese Botanist's Daughters (Les Filles du botaniste). Keep checking Rotten Tomatoes for updates!
Audience Reviews for The Chinese Botanist's Daughters (Les Filles du botaniste)
Rubia Carolina
Super Reviewer
½
There has to be a million movies made which ask us to sit through watching some man be a complete asshole so that we can witness the long suffering of the women around him. Often there is a subtext or symbolic undercurrent that the characters and their relationships are meant to represent. This is one such movie. The asshole in this film is the Chinese botanist and he represents a tyrannical and repressive society. He makes ancient herbal remedies in a botanical paradise he has constructed on an island that is supposed to be somewhere in Yunnan Province, China. The long suffering woman in the film is his twenty year old daughter. She waits on him hand and foot. She cuts his toenails. She represents all that is good and new and wonderful yet shackled in the modern world. The film has good intentions and attempts to expose some of the lingering absurdities of Chinese traditional values in general and those of the Cultural Revolution in particular. One day another young woman arrives on the island to intern with the botanist. She brings a talking bird that squawks "Long live Chairman Mao" all the time. The two women fall in love, the father sees this forbidden love in the flesh and dies of a heart attack. The two young women are put to death for the crime of the disease of homosexuality that caused the death of a prized botanist. The director wants to make a point of how fucked up the situation is but he takes it to a ridiculous extreme, much like the film's soundtrack of crescendoing choruses and violins. It's too bad because the film has a strong and very sensual visual appeal. As mentioned, the film's location is supposed to be somewhere in Yunnan, one of the most beautiful places in the world, but because of the homosexual content Chinese authorities prohibited the director from filming there. The irony! So it's filmed in Vietnam where it's green and lush and dripping wet. If all the scenes of the father being an idiot were removed The Chinese Botanist's Daughters would be a gorgeous film. Sijie Dai, the film's writer and director, was sent to a reeducation camp as a young man during the Cultural Revolution. He's clearly exorcising demons and I would like to applaud his efforts but while the theme of The Chinese Botanist's Daughters is worthwhile the particulars are schmaltzy, unpleasant, and far too melodramatic. Dai's earlier film Balzac and the Little Chinese Seamstress is a much better film dealing with the Cultural Revolution. Mylène Jampanoï, who stars as the woman with the talking bird, went on to star in the French extreme horror film Martyrs.
fuck you
I was deeply heart-broken with sudden apathetic ending, Lamenting what the local authority has done to the two lovely young human beings. For a child began the life finding herself all alone with star crossed bad luck, Li Min seemed so sweet without instilling bitterness in her personality, She has also began developing sense of being a good member of community and respect for virtue of hard working. What else could you ask for a child who have survived through such a catastrophic disaster? Being a sole survivor escaped from such a catastrophic earthquake that killed a quarter million people and found herself all alone at daybreak on 4 a.m., July 28, 1976. She has grown to be a lovable young adult without a mean twist in her personality. Her preference seeking a female companion was really a negligible issue in the modern world. Love relationship between women has been accepted practice in the both Western and Eastern Imperial Courts amongst high ranking Court Ladies in Waiting (Japan in particular). The two girls deserve every rights to be happy with the person she loves. Someone like Li Min who had qualified government assisted internship, she could also have looked into training in medical field such as nurse or pharmacist An Chen would have easily qualified her for all kind of public funded academic programmes for her father being a famous professor of herbal medicine at the Medical Department of Kumming University. The two girls had potential to be successful lifetime companionship with a respectable socio-economic standing.. All needed was an open-minded love with a sense of altruistic insight in Professor Chen. Once they are trained as nurse or pharmacist. they could have worked and lived anywhere in the world. What a waste of two precious young lives! It was the fault of close-minded community incapable for thinking of letting them attaining skills to survive except use them as maid servants. It is a social crime to undermine woman's ability in this manner. If the society continues to label and hold down Li Min and An Chen unemployable, such socio-economic loss can become global loss An exceptionally lovely persona of Li Min played by Mylène Jampanoï makes it so hard not learning to love her. 19 Century librettist Honore de Balzac stated that "AWoman's beauty is a priceless treasure" The statement aptly applies to her in every aspects. Since I read and speak Chinese and French, Opening statement by Li Min alone regarding the death of her parents shed my tears. It was much more so painful to listen to her reading the last letter sent to the head mistress of orphanage "put our ash on the surface of the lake by the temple so that we can stay in peace" What a merciless world is it? It made me so sad that I could not listen to the very end. It really broke my heart to acknowledge that they are no longer together in this world.
Julien Kujo
The Chinese Botanist's Daughters (Les Filles du botaniste) Quotes
There are no approved quotes yet for this movie.