The Clay Bird
(2002)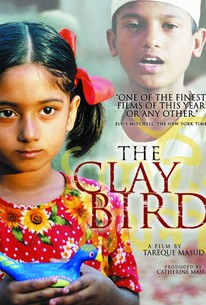 Movie Info
The Clay Bird takes place in the late '60s, in East Pakistan, on the eve of a violent revolution that created the independent state of Bangladesh. Anu (Nurul Islam Bablu) lives with his fundamentalist Muslim father, Kazi (Jayanto Chattopadhyay), who practices homeopathic medicine. Anu's mother, Ayesha (Rokeya Prachy) was once a spirited girl, but she's become sullen in subservience to her increasingly taciturn husband. Anu also has a sweet but sickly little sister, Asma. Milon, Kazi's younger brother, is involved in local politics, protesting against Pakistan's military rule. He also takes Anu to the lively local Hindu festivals. Finally, worried for his son's spirituality, Kazi sends Anu away to a madrasah , a strict Muslim boarding school. There, the sweetly inquisitive boy is an outcast, so he befriends another outcast, Rokon (Russell Farazi), who invites him to play catch with an imaginary ball. (In the strict teachings of the madrasah, the boys are not allowed to employ objects or boundaries in their play.) As Anu adjusts to life away from home, Asma grows gravely ill, and Ayesha is frustrated by Kazi's refusal to use modern medicine. The family has its own internal crisis as the political upheaval around them reaches a deadly level. Director Tareque Masud, who wrote the script with his wife, Catherine Masud, who also edited the film, has a background in documentary filmmaking. The Clay Bird, his first narrative feature, won a FIPRESCI Award at the 2002 Cannes Film Festival and was shown at New Directors/New Films in 2003. It was also the first film officially submitted by Bangladesh for Oscar consideration.
Rating:
NR
Genre:
,
Directed By:
Written By:
In Theaters:
On DVD:
Runtime:
Studio:
Cast
Critic Reviews for The Clay Bird
Audience Reviews for The Clay Bird
½
The Clay Bird, an examination of Islam as seen through a child's eyes in the midst of Bangladesh's violent formation, is too muddled to be truly effective. It's hard to follow the historical thrust of the story, and the various cultures, religions, and political movements aren't clearly delineated for outsiders. It's hard to imagine really appreciating the movie without being deeply invested in Bengali history. Still, the film features some touching moments, great performances from its young actors, and features some interesting insight that isn't fleshed-out or balanced enough to warrant much deliberation, but still provides a glimpse of a different, sometimes disturbing, way of life.
Clayton Walter
½
Tareque Masud has painted an honest picture of life in a Bangladeshi village during the early 70's. The relationships between the family members and the changes in their life brought forth by the Moslem fundamentalist influence is portrayed very well. Overall its a very well balanced film and leaves an inquiring mind wondering: Why??
Somesh Karanjee
Discussion Forum
Discuss The Clay Bird on our Movie forum!
News & Features