Demons of Ludlow
(1983)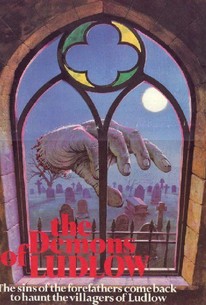 AUDIENCE SCORE
Critic Consensus: No consensus yet.
Movie Info
Wisconsin "B"-movie wizard Bill Rebane (the mastermind behind Monster a Go-Go! and The Giant Spider Invasion) cranked out this occult cheapie, set in the New England burg of Ludlow, which is cursed by the malevolent spirit of an executed warlock. The foul fellow returns with his demonic armies to wreak havoc on the town during its Bicentennial festivities; the title nasties accomplish this by animating a variety of weird objects -- including a piano, which serves as a vessel for the warlock's soul and triggers supernatural deaths when it's played. Overlooking the fact that the basic premise borrows heavily from John Carpenter's The Fog, there is little original material here to keep one's interest. The theme of vengeful colonial ghosts was better served in Ulli Lommel's The Devonsville Terror, on which Rebane served as associate producer.
Critic Reviews for Demons of Ludlow
There are no critic reviews yet for Demons of Ludlow. Keep checking Rotten Tomatoes for updates!
Audience Reviews for Demons of Ludlow
½
Entertaining enough but it doesn't pick up fast. The demons are pretty fun though, and the campy effects. Story is ridiculous, and the main characters are stale. Still, it has a pretty good last act, but the rest is forgettable.
Wes Shad
The Demons of Ludlow Starring: Paul von Hausen, Stephanie Cushna, Carol Perry, James R. Robinson, C. Dave Davis, and Angailica Director: Bill Rebane A curse that's haunted a small New England town since its founding two hundred years ago is brought fully to horrible life when a piece of its secret history--a piano that sounds like a harpsichord (or is that a harpsichord that looks like an upright piano?)--resurfaces. Will the town preacher (Von Hausen) and a pair of young journalists (Cushna and Robinson) stop the curse, or will they fall victim to it? I have inadvertently subjected myself to a Bill Rebane mini-filmfest by watching two of his works in a row. I don't know wether my ability to tell crap from quality has finally started to erode, but "The Demons of Ludlow" was actually pretty good for a low-budget horror film. Compared to some of Rebane's other efforts, it's downright brilliant. Unfortunately, like another of his almost-good movies--"The Game" (aka "The Cold")--he and his writers simply can't seem to pull off the ending. Remember my question as to whether the preacher and the journalist escape the curse? That remains a question at the end of the movie, and it's not a question that hangs there in a good way. The ending is so abrupt that seems as though Rebane ran out of film and had no money to buy more. The film simply feels like the creators [i]forgot[/i] the ending. If a little more care had been taken to construct a story with a decent end, this could have ben a solid 5, or maybe even a low 6. The soundtrack is decent, the acting is better than most of what you see in films of this kind, and there are even some pretty scary scenes--the sequences where the preacher's alcoholic wife is being tormented by the ghosts' of Ludlow's past are particularly well done. But, again, Rebane screws up the ending.
Steve Miller
½
This is another film from the Mill Creek 50 movie pack of Chilling Classics. Directed by Bill Rebane, who never directed anything big, but did do some spectacular cult films like 1975 Rana: The Legend of Shadow Lake, The Giant Spider Invasion, Blood Harvest, and The Alpha Incident (Which I have to watch later this week.. Just to name a few. The film is of poor video quality, and the obscurity of this film means that very few people will ever get to see it and judge it fairly. Its about the Ludlow family donating a demon possessed piano to the town of Ludlow for revenge of something that happen 200 years ago. Having come out in 1983 it had some pretty good but cheap special effects, the glowing hand, the possessed tree, and the last scene with the bouncing piano almost ruined it all. Still if your into bad films, or weird films or micro budget regional horror films are your thing then this odd little item is worth a look. And for the price you can pick up Mill Creek Collections on Amazon for its well worth it. Still I have to judge as I seen it and that's 2 1/2 stars.
Bruce Bruce
Super Reviewer
Demons of Ludlow Quotes
There are no approved quotes yet for this movie.
Discussion Forum
Discuss Demons of Ludlow on our Movie forum!