The Desert Of Forbidden Art
(2011)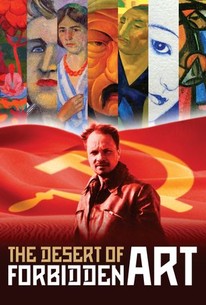 The Desert Of Forbidden Art Photos
Movie Info
THE DESERT OF FORBIDDEN ART is the incredible true story of how one man, Igor Savitsky, saved a treasure trove of art worth millions of dollars, "hiding" it in a museum in the desert in Uzbekistan. A tireless collector of paintings that the Soviet government wanted destroyed, Savitsky traveled thousands of miles - scheming, plotting, pleading - doing whatever it took to get his hands on the art he so passionately wanted to preserve. As a result of his efforts, The Karakalpakstan State Museum of Art named after Savitsky, also known as the Nukus Museum - hosts the world's second largest collection of Russian Avant Garde Art (after the Russian Museum in St. Petersburg). Winner of the Cine Golden Eagle Award; Best Documentary Award at Palm Beach International Film Festival, and the Audience Award at Beijing International Film Festival, THE DESERT OF FORBIDDEN ART, a documentary written, produced and directed by Amanda Pope and Tchavdar Georgiev, will have its US Theatrical premiere at Cinema Village in New York on March 11, followed by a Los Angeles release at Laemmle Theaters on March 18. A 52-minute version of the film will premiere on the Emmy Award-winning PBS series Independent Lens, hosted by America Ferrera, on Tuesday, April 5, 2011 at 10 PM. A frustrated artist, Savitsky was working as an archaeologist when he became fascinated by the indigenous cultures of Western Uzbekistan. He began to collect jewelry, coins, handmade clothing and other items in danger of being lost as the Soviets sought to devalue distinctively ethnic artifacts. Savitsky even succeeded in convincing government officials to provide funding for a museum in Nukus, far from Moscow's prying eyes. But then Savitsky discovered his true calling. Pretending to buy State-approved art, he daringly rescued over 40,000 works by artists banned during the Stalin era for speaking out against authority, for being gay, or for simply refusing to paint in the style they were told. Risking torture, imprisonment and death, this small group had remained true to their artistic vision. Savitsky even managed to cajole the cash to pay for the art from the same authorities who had banned it. Savitsky's greatest discovery was an unknown school of artists who settled in Uzbekistan after the Russian revolution of 1917. There they encountered an Islamic culture as exotic to them as Tahiti was for Gauguin, developing a startlingly original style that fused European modernism with centuries-old Eastern traditions. To Savitsky the paintings were a revelation. Around the saga of Savitsky and the artists, the filmmakers weave the cultural and political context of the times, juxtaposing beautiful and colorful images from the collection with rare Soviet archival film and stills. Ben Kingsley, Sally Field and Ed Asner voice the diaries and letters of Savitsky and the artists, bringing to life a dramatic journey of sacrifice for the sake of creative freedom. Today the priceless paintings that Savitsky spent his life collecting are located in one of the world's poorest regions, making them a lucrative target for Islamic fundamentalists, corrupt bureaucrats and art profiteers. The collection remains as endangered as when Savitsky first created it, posing the question of whose responsibility it is to preserve this cultural treasure. In November 2010, the original two story building of the Savitsky State Museum was vacated by the Uzbek government without providing any new space for the storage and exhibition of the works. The building will be demolished shortly, and reportedly the government will construct a bank and the local Ministry of Justice in its place. -- (C) Olive Films
News & Interviews for The Desert Of Forbidden Art
Critic Reviews for The Desert Of Forbidden Art
Audience Reviews for The Desert Of Forbidden Art
½
"The Desert of Forbidden Art" is an informative documentary about a fascinating subject, the Nukus Museum in Karakalpakstan, an autonomous republic of Uzbekistan. When this area was part of the Soviet Union, the Stalinist idea was to repress the local culture as much as possible in favor of conformity.(On the plus side, women's liberation was introduced.) In response, Igor Savitsky began collecting as much local folk art as he could to put it in a museum, so it could be viewed and preserved. If that was not daring enough, then he also went on to do something similar for censored avant garde art which clashed with the official propaganda artwork of the social realist style that ironically had nothing to do with reality. While getting bonus points for using a clip from the excellent movie "The White Sun of the Desert," "The Desert of Forbidden Art" mainly relies on the testimony of survivors and children of artists to tell its story. While it allows for an emotional recounting of events, it sadly does not allow for a coherent timeline. And yes we know all about the gulags by now. As for the present day, the documentary summarily skips over reported Uzbek human rights abuses(hat tip: Dirty Diplomacy by Craig Murray) in favor of what it feels is the greater peril of "radical Islam."
½
Lovely doc about a Soviet curator who built a museum of banned art in Uzbekistan under Stalin's nose, saving and collecting artwork from artists all over the USSR. Feels a bit PBS-y, and ends abruptly, but it's a fascinating story about the triumph of art over censorship.
Matthew Lucas
Super Reviewer
The Desert Of Forbidden Art Quotes
There are no approved quotes yet for this movie.
Discussion Forum
Discuss The Desert Of Forbidden Art on our Movie forum!