The Dungeonmaster
(1985)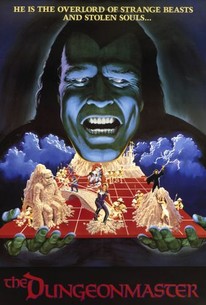 AUDIENCE SCORE
Critic Consensus: No consensus yet.
Movie Info
First shot in 1983 but not released until 1985, this low-budget, amateur fantasy is about Paul Bradford (Jeffrey Byron), a computer whiz who takes on the forces of evil in the guise of Heavy Metal (Blackie Lawless), the leader of an eponymous L.A. band, and Mestema (Richard Moll) the black magician who forces Paul into seven separate confrontations with powerful enemies, much in the manner of Hercules and his challenges (each confrontation directed by a different individual). The nasty Mestema is holding Paul's girlfriend Gwen (Leslie Wing) hostage, giving him all the more reason to meet these challenges, armed with his computer and nothing more. And all this happens in a mere 73 minutes of running time -- counting the long credits -- or about 10 minutes a challenge.
Critic Reviews for The Dungeonmaster
All Critics (2) | Fresh (1) | Rotten (1)
Given the title, it's not surprising that the movie feels like a re-hash of several teenage roleplaying sessions rolled into one, but the special effects really hold up.


Audience Reviews for The Dungeonmaster
A computer geek and his girlfriend get zapped into a dark underworld. She gets chained up by this evil sorcerer guy who compels the nerd to face seven different challenges in order to procure her freedom. The "challenges," each of which are directed by a different person (no, seriously!), are little more than just scanty encounters with monsters, giants, bands(!), museums, and explosives, each setting in caves, concert halls, or pyramids. Predictably, the nerd conquers all of them by way of his cheesy zapper watch. At the end of it, the nerd fights the sorcerer, and the victor of it all shouldn't be so surprising. That sums up THE DUNGEONMASTER, a truly heinous turkey with everything which defines a major stinker. It's atrociously acted, with dialogue that ranges from groan worthy to just plain laughable. It looks tacky, as well; poorly shot and cheap in execution. The "monsters" are hideous, and not in a good way; they look fake, they are robotic, and they are unpleasant to look at. Not a single minute of this movie excels believability. Even the gravel-voiced Richard Moll is saddled with dialogue that verges on overly hammy. Which is a shame, as he COULD have made the villainous sorcerer a half decent villain. The best part of the movie is that it's short, at 74 minutes long. Even as a generally tolerant fan of movies some would find unwatchable, THE DUNGEONMASTER proved to be not only a waste, but a totally uninteresting and immanently forgettable one. MYSTERY SCIENCE THEATER 3000 fans, beware: of all films, this has to be the absolute worst. If you dare to sit through this movie (and I challenge you to), expect to be disgusted through every minute. It's really that awful.
Jon Turner
A demon sucks a computer expert into a dream world where he puts him through a series of tests, each directed by a different B-movie hack in a different style, including a MAD MAX ripoff, a detective story, and a W.A.S.P. music video (!). With a gratuitous nude dream sequence, cheesy paint-on-the-film special effects, and lines like "I reject your reality and substitute my own!," this guilty pleasure is the apotheosis of nerd camp.
The story makes no sense, it's all over the place, and the ending is stupid. I hated this movie.
The Dungeonmaster Quotes
There are no approved quotes yet for this movie.
Discussion Forum
Discuss The Dungeonmaster on our Movie forum!