The Edison Death Machine
(2006)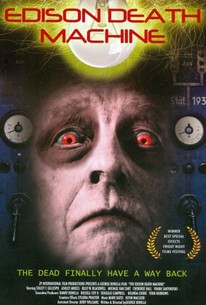 AUDIENCE SCORE
Critic Consensus: No consensus yet.
The Edison Death Machine Videos
The Edison Death Machine Photos
Movie Info
The mystery of Thomas Edison's most incredible inventions leads to a globe-trotting thrill ride for a band of resourceful thieves intent on resurrecting some of history's most notorious figures. When Edison died, the machine he invented that would allow the living to communicate with the dead became little more than an elusive myth; some say it never existed, while others swear to have seen it firsthand. When a group of thieves track down Edison's remarkable apparatus, they use it to bring back legendary leaders from centuries past, and steal their priceless treasures. But just when the bandits are on the verge of becoming wealthy beyond their wildest dreams, a ruthless gangster discovers their secret, and stakes his claim on their precious spoils.
Rating:
NR
Genre:
,
Directed By:
Written By:
On DVD:
Runtime:
Studio:
Cast
Critic Reviews for The Edison Death Machine
There are no critic reviews yet for The Edison Death Machine. Keep checking Rotten Tomatoes for updates!
Audience Reviews for The Edison Death Machine
½
In this comically-amusing ultra-low budget horror/adventure film, a newly promoted museum curator (Stacey T. Gillespie) gets drunk and suckered into showing the secret wing of his museum to a girl he just met in a bar, who happens to be baiting him for a robbery heist, led by top crook Billy W. Blackwell. Just before the robbery happens Gillespie and the girl uncover Thomas Edison's mythical Death Machine, which is said to resurrect the dead. The robbers decide to steal the Edison Death Machine in a bid to steal jewels and trinkets worth millions by infamously historical people. During each heist, the danger heightens as they take on the King (or some crude imitation of Elvis), a Samurai Warrior, a pirate, and some dead soldiers. Adding to the now international gang of crook's list of problems is a competing crook/mafioso madman Dominic Contessi (Frank Santoroski), who the group becomes in debt to. While Edison Death Machine gives off the appearance that it was made for under 1,000 dollars, not to mention the laughable acting and special effects, you will NOT find a more original and unique story in ANY film playing at the local cinema this week, or ANY other week the rest of this year and maybe the next couple after that. The story is highly different and a breath of fresh air, thanks to some fun writing and directing from Kentucky directing legend George Bonilla (who is also the NICEST guy in the world to boot!). If you're a moron that craves flashy MTV camerawork and non-stop eye candy to further your stupidity, then Edison Death Machine may not be your cup of tea. If you want to see a very low-budget, but genuinely honest, underdog film that tries to give it's best, then EDM is your best shot. Clearly, this group knows what they're trying to sell isn't part of the commercialized mainstream bullshit, but it tries very hard to just entertain and delight viewers, which earned my respect. Fun movie!
Jason Duron
½
The title is what provoked me into watching this movie, but now I wish I had not. Interesting concept, but poorly executed.
Scott Ondracek
Discussion Forum
Discuss The Edison Death Machine on our Movie forum!
News & Features