The Flesh and The Fiends
(1961)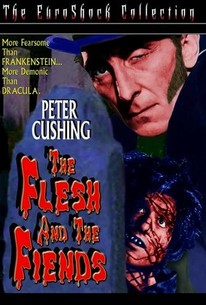 AUDIENCE SCORE
Critic Consensus: No consensus yet.
Movie Info
Mania is the venerable Burke and Hare story, previously cinematized by producer Val Lewton as The Body Snatcher. Peter Cushing plays a respectable 19th-century Edinburgh doctor who needs fresh cadavers in order to continue his crucial research. Since the exhuming of bodies for medical purposes is illegal, Lee must rely upon grave-robbers George Rose and Donald Pleasance for his corpse supply. What Lee doesn't know is that Rose and Pleasance frequently cut out the middleman by "creating" their own corpses. The good doctor catches on when the latest cadaver turns out to be his own fiancee. Its excessively violent climax has prevented Mania from being shown completely intact on commercial television. ~ Hal Erickson, Rovi
Critic Reviews for The Flesh and The Fiends
There are no critic reviews yet for The Flesh and The Fiends. Keep checking Rotten Tomatoes for updates!
Audience Reviews for The Flesh and The Fiends
The Flesh and the Fiends (aka "Mania", "The Psycho Killers", and "The Fiendish Ghouls") Starring: Peter Cushing, Donald Pleasence, and George Rose Director: John Gilling In 1827, sociopathic drunkards Burke (Rose) and Hare (Pleasence) strike it rich by selling recently deceased bodies to the esteemed doctor and medical instructor Dr. Robert Knox (Cushing). Knox, frustrated by his inability to acquire bodies in good shape for dissection turns a blind eye to where his new study subjects may be coming from, while Burke and Hare are murder their way through Edinburgh's poor and homeless. They get sloppy and greedy... and when they kill one of Dr. Knox's students, things go from bad to worse. Based on real-life events surrounding a doctor who actually did do quite a bit to advance the science of anatomy, and two murderous men who helped him do it, "The Flesh and the Fiends" isn't quite a horror film--despite the many lurid titles it's been presented under over the years--although the real-life events it describes are pretty horrible, but instead a well-acted drama about how a fundementally good man with a righteous goal can become tainted by evil if he lets obsession and ambition blind him to moral right and wrong. The film is particularly interesting because Peter Cushing is plays Dr. Knox, a character who has a lot in common with Baron Frankenstein; both men believe they alone know how to advance medical science and everyone else is too limited in vision and drive to acheive. (There's even a scene in "The Flesh and the Fiends" that is very similar to one in "The Revenge of Frankenstein"--in both cases, the doctors are ordered to appear before Medical Councils bent on disgracing them. In both cases, the summoned doctor refuses to bow before them.) There are two key differences between Knox and Frankenstein as portrayed by Cushing. Frankenstein always has a superior air about him and nothing (NOTHING!) ever truly harms his ego or sense of self. Knox, on the other hand, while arrogant and sure that he Knows What Is Right, always has a slightly sad and lonely air about him--he stands alone and he isn't quite sure why. The scene where Knox manages to see himself as the world has come to see him is one of the most striking moments in the film, and it's one that Cushing pulls off spectacularly... and really underscores that he is playing two very different characters despite the many similarities. Aside from Cushing, Pleasence and Rose are great as the infamous serial killers, Burke and Hare. The rest of the cast does a good job as well, and the musical score is above average for a movie of this kind, from this period in British cinema. So, with all that raving, why only a Six-Tomato Rating? First of all, there's the look of the film. With the exception of scenes where an angry mob is chasing Burke and Hare after their murderous deeds come to light, Gilling doesn't take advantage of the fact that he is shooting in black-and-white. Most scenes are varying shades of gray where some stark lighting contrasts would have upped the drama significantly and made the movie far more interesting visually. Second, there isn't enough exploration of Knox and his family. His daughter and her fiance are introduced and both characters play small parts in the film. They are very decent people, and through them we get the sence that Knox is a decent person too, but we don't get enough of this. If we saw more of Knox's "private life" away from the lecture hall and the basement where he purchases corpses from Burke and Hare, his fall and redemption would be that much more impactful. One less barroom scene and one more scene of Knox interacting with the daughter would have done wonders for the film, I think. Nonetheless, "The Flesh and the Fiends" is a film that's worth seeing for fans of the Golden Age of the British thriller. Fans of Peter Cushing and Donald Pleasence will also be able to enjoy these two actors giving fine performances.
Steve Miller
½
"Coffins Looted! Cadavers Dissected!" Nice bit of macabre horror from England's Shepperton Studios. (Based on the real life exploits of William Burke, William Hare and Dr. Robert Knox.)
Randy Tippy
Super Reviewer
½
This is a pretty good attempt at a "body snatcher" flick, but it could be a lot better. Cushing plays a creepy looking guy, but that's not enough for a good horror movie.
The Flesh and The Fiends Quotes
| | |
| --- | --- |
| William Hare: | Now Aggie you're not thinking our intentions are dishonorable, You're old enough to be me own mother. |
| | |
| --- | --- |
| Dr. Robert Knox: | So, they've decided to let the world judge me. Very courageous of them. It is time for my lecture. I have never missed a lecture Mitchell. |
| Dr. Geoffrey Mitchell: | No sir. |
| Dr. Robert Knox: | It will be quite a new experience talking to empty walls. At least they won't criticize me. |
| | |
| --- | --- |
| Mary Patterson: | If you were half a man you'd drag me out of here by the roots of my hair but just try it and I'll kill you. |
| | |
| --- | --- |
| Rev. Lincoln: | That man is doing the devil's work. |
| Dr. Ferguson: | Aye, and he does it brilliantly. |
Discussion Forum
Discuss The Flesh and The Fiends on our Movie forum!