The Forgotten Ones
(2009)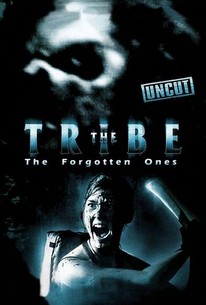 AUDIENCE SCORE
Critic Consensus: No consensus yet.
The Forgotten Ones Photos
Movie Info
A group of young adventurers come face-to-face with a powerful predator after sailing off course, and getting stranded on an uncharted island. All Liz and her friends wanted was a relaxing island vacation. Shortly after setting sail, however, their yacht began to drift off course, and the waters began to swell. The next thing everyone know, the boat was capsized, and they were swimming to safety on a secluded beach. Later, after radioing for help, the group sets up camp near the shoreline in anticipation of a rescue team. The following morning, when Liz awakens, she discovers a bloody trail in the sand where her fiancé Peter had just been sleeping. Tracing the path straight into the jungle, Liz becomes convinced that something horrible is watching them from the trees -- awaiting the perfect moment to strike. Rejecting Liz's plea to help rescue Peter, Ira and Lauren remain on the beach, where they quickly fall prey to the vicious killer. Now all alone with no weapons to defend herself, Liz must summon the courage to find and defeat the cunning hunter before she becomes his next victim. ~ Jason Buchanan, Rovi
Critic Reviews for The Forgotten Ones
There are no critic reviews yet for The Forgotten Ones. Keep checking Rotten Tomatoes for updates!
Audience Reviews for The Forgotten Ones
I wasted 45 pesos to watch this garbage excuse for a film. This film is boring, cliche, unoriginal, laughable, & practically a "King Kong" meets "Predators" rip-off plot themes. The only interesting thing in this film were the creatures, but even so, they still were nothing close to being good. So it starts off as the typical teen love & yacht theme with friends & all, & then they head out to sea to have some fun. Are you getting something original? No, instead, you're getting teens 'coincidentally' crashing onto an 'uncharted island' that no seems to recognize, & later on, it's infested with some strange, demonic cannibals that have apparently eaten other people that were on this island a very, very long time ago. How original is that? Like I said, it's almost just a bunch of other movie plots ripped out & pasted around. And the most obvious part about this movie that easily says it's a "Predator" rip-off is through half the movie when the main character discovers how to protect/cover herself from the creatures. All in all, this movie sucked. Even the ending to this movie was painfully stupid. I gave this movie another 10% for pity. Hell from what I read, the original director & others who worked on this movie didn't like the results of what came out of it. Wow, I applaud them for being the very first movie makers who realize what crap they made unlike some people (Uwe Boll). So now, this movie is at it's titled, "Forgotten". I'm certain the new straight to DVD remake won't be better.
Frisby 2007
Super Reviewer
A group of unlikable young people get stranded on an island inhabited by a savage tribe.  The only great thing about this one is the heroine farts during a scene.
Christopher Brown
Super Reviewer
½
The Tribe also known as "The Forgotten Ones",has some elements of "The Descent",but not as good.What really stands out from this film is the creature make-up.The characters are not interesting & annoying,death scenes are off screen & what the film relies on suspense & scare tactics,but it doesn't really help out the film,because some of the scenarios are stupid.It had potential to be a good film,but it doesn't work at so many levels.
The Forgotten Ones Quotes
There are no approved quotes yet for this movie.
Discussion Forum
Discuss The Forgotten Ones on our Movie forum!