The Garden of the Finzi-Continis (Il Giardino dei Finzi-Contini)
(1971)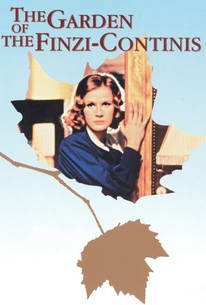 Movie Info
Vittori DeSica's Garden of the Finzi-Continis is a moving film about an aristocratic Jewish family living in Italy during World War II who don't comprehend the threat of the Nazis until its too late. The film won the Academy Award for Best Foreign Film, and boasts terrific performances by Helmut Berger and Dominique Sanda.
Rating:
R
Genre:
,
Directed By:
Written By:
In Theaters:
On DVD:
Runtime:
Studio:
Titanus Produzione
Critic Reviews for The Garden of the Finzi-Continis (Il Giardino dei Finzi-Contini)
Audience Reviews for The Garden of the Finzi-Continis (Il Giardino dei Finzi-Contini)
½
This is one of a handful of great Italian films that allow us to experience the police state through the daily lives of a family and the intimate stories of individuals. It is an eloquent, beautiful, deeply moving film.
Paul Dalle-Molle
½
There's so much going on in this film, from the symbolism of the garden to the relationship between Micol and Giorgio. It definitely deserves more than one viewing and just goes to demonstrate how great Italian cinema is.
The garden is IDYLLIC. Giorgio (Capolicchio) is from a middle class Jewish Italian family. He has the pleasure of spending some leisurely time inside the gates of an upper class Jewish family's property. Micol (Sanda) and Alberto (Berger) Finzi Contini, sister and brother, play tennis, ride bikes and talk about politics with their young friends. Bruno (Testi) is also there though he is not Jewish. It is the late 1930's. Giorgio observes as Italian laws in his town begin restricting the rights of Jews. His father (Valli) doesn't think that the Fascists in Italy will let the treatment of the Jews get as bad as the Nazis in Germany have. But Giorgio sees things spiraling out of control, the situation getting ready to fall like the seasonal fall leaves captured in the opening credits. Giorgio and his younger brother may not be able to finish their college education. Meanwhile Alberto gets sick with pneumonia, or is it some other mysterious disease. Micol flirts with and teases Giorgio and Bruno. Giorgio falls in love, but Micol keeps him at a distance. Perhaps it is their class difference or the fact that because the Finzi-Continis have lived such a privileged life they hardly consider themselves Jewish anymore. Maybe Micol's attraction to Bruno is an effort to blend in with the Aryan, non-Jewish, population. Sadly, very few escape history. The movie starts with lots of sunshine and the pristine white preppy clothes of the young adults as well as the spotless condition of the interior of the Finzi-Contini mansion. By the end we see many more drab grays. Yet the movie keeps reminding the audience to look up toward the tree tops and the sun in hope.
Byron Brubaker
Super Reviewer
The Garden of the Finzi-Continis (Il Giardino dei Finzi-Contini) Quotes
There are no approved quotes yet for this movie.