The Glory Stompers
(1967)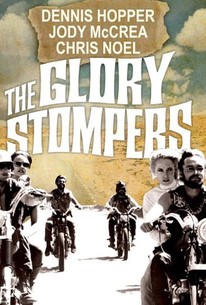 AUDIENCE SCORE
Critic Consensus: No consensus yet.
Movie Info
Chino (Dennis Hopper) is the tough leader of a motorcycle gang who starts off a war when he abducts and mistreats the leader of the enemy biker gang, Darryl (Jody McCrea), and his girlfriend Chris (Chris Noel). When Darryl comes back for revenge, things get violent.
Critic Reviews for The Glory Stompers
There are no critic reviews yet for The Glory Stompers. Keep checking Rotten Tomatoes for updates!
Audience Reviews for The Glory Stompers
This formulaic biker film is only worth seeing if you're curious to see Dennis Hopper on wheels in a pre-"Easy Rider" role. (He's bearded here, if that matters). Unfortunately, you'd never guess he would become a notable actor based on this crass, disposable performance. Otherwise, this is just a tepid tale of Hopper's little gang (the Black Souls) abducting a blonde hottie from the rival Glory Stompers. The head Glory Stomper (Jody McCrea, who looks just like father Joel) heads off in pursuit, meeting up with an older biker (Jock Mahoney) who seems woefully miscast. The musical score is dull, and the extras are dominated by improbable beach bunnies who can't get enough of grizzled bikers (apparently, they are only in the film to flaunt their sparkling clean underwear and to get painted psychedelic a la Goldie Hawn in "Laugh-In"). Keep an eye out for Casey Kasem in a small role -- he's barely recognizable.
Eric Broome
Super Reviewer
Not so good film if you're into old biker gang nostalgia. Set in California, naturally, this one features Dennis Hopper before his fame in Easy Rider. A most forgetable film. But today's film buffs may appreciate the crudeness of the era and its filmaking. Glory Stompers is the name of a motorcycle (biker) gang. They kidnap a rival biker gang's girl. Typical biker gang flick modeled after California's Hell's Angels, this one is for escapist film buffs only. Hate well done movies, watch this. Terrible soundtrack too when there is one, but period type stuff nonetheless. Original Release Date: Dec 22, 1967 Director Anthony Lanza made two films, this one and The Incredible Two Headed Transplant. Thats it. Can we expect much? Unless you like crude film making with horrid dance scenes, this one will most likely disappoint. The motorcycle-gang leader of the Black Souls steals the girlfriend of the rival Glory Stompers' leader in a fracas. In revenge, the Glory Stompers go after the Black Souls to get the young woman back, who had nearly been sold into the Mexican white-slave market. Suggested for immature film buffs or fanatical biker gang fans only. Jody McCrea is a blonde beauty but Dennis Hopper (before Easy Rider fame) plays a low life gangster. Work must have been tough to find pre-Easy Rider days. Cast Dennis Hopper (gang leader) Jody McCrea (kidnap victim) Chris Noel Jock Mahoney Sondra Gale Robert Tessier Astrid Warner Casey Kasem Lindsay Crosby (a Bing Crosby son who committed suicide) Gary Wood Crew Director: Anthony M. Lanza Cinematographer: Mario Tosi Executive Producer: Maurice E. Smith Producer: Norman T. Herman Producer: John Lawrence Screenplay: John Lawrence Screenplay: James Gordon White
monsieur rick
This movie uses the story of the damsel in distress and the knight who comes to rescue her, and puts it in terms of a biker movie. I enjoyed it, and if you love biker movies, you will also enjoy it. Plus, it's got Dennis Hopper.
Wednesday Tuesday
The Glory Stompers Quotes
There are no approved quotes yet for this movie.
Discussion Forum
Discuss The Glory Stompers on our Movie forum!