The Godless Girl
(1929)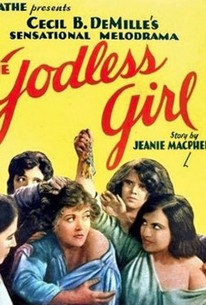 AUDIENCE SCORE
Critic Consensus: No consensus yet.
Movie Info
Completed as a silent film, Cecil B. DeMille's The Godless Girl was quickly converted into a part-talkie by the simple expedient of tacking on a 10-minute coda, wherein the characters discuss the weather. The film begins as a condemnation of the atheistic movement then prevalent on high-school and college campuses. Heroine Judith Craig (Lina Basquette) and hero Bob Hathaway (George Duryea, later known as western star Tom Keene) hold secret anti-religious meetings with their friends. During one such meeting, the police stage a raid, whereupon a stairway collapses and a young girl is killed. Arrested for complicity in the girl's death, Judith and Bob are sent to reform school, where they suffer mightily at the hands of their sadistic jailers. Likewise brutalized is hard-boiled Mame (Marie Prevost), who in one of the film's most notorious scenes is strung up by her wrists and beaten (DeMille claimed that he was only mirroring "real life," but he was always saying things like that). Somehow, their horrible experiences serve to renew Judith and Bob's faith in God. In a harrowing climax, Bob rescues Judith from a fire, a scene so realistically staged that, for the rest of her life, the actress retained vivid memories of how close she came to being genuinely incinerated. Featured in the cast are Noah Beery Sr. as "The Brute" and Eddie Quillan as "The Goat." The Godless Girl represented Cecil B. DeMille's final production for Pathe; shortly afterward, he moved to MGM, thence to Paramount.
Critic Reviews for The Godless Girl
There are no critic reviews yet for The Godless Girl. Keep checking Rotten Tomatoes for updates!
Audience Reviews for The Godless Girl
½
it's like reefer madness for atheists :P ok, to be fair it's very well made and entertaining, if terribly predictable
Stella Dallas
Super Reviewer
Cecil B. DeMille's last silent feature and a great one it is too. The film starts with a high-school battle between the two gangs, the Athiests, led by Judy and the Believers led by the handsome Bob. When the believers gate crash the Godless Society's meeting a full scale riot braeks out and during all the commotion a girl falls to her death. Then we find ourselves in a brutal reform school. The two gang leaders and their neutral friend Bozo are sent there after the tragic accident. Both the girls and the boys are open to torture and punishment. Half way through the story Judy forgots her Atheist ways with the help of her new friend. Judy and Bob, who once were enemies fall in love and manage to escape, though they are not quite successful. This is essential religious propaganda, but even though the girl was converted so easily it is still like nothing else I've seen. Defiantly recommended.
The Godless Girl Quotes
There are no approved quotes yet for this movie.
Discussion Forum
Discuss The Godless Girl on our Movie forum!